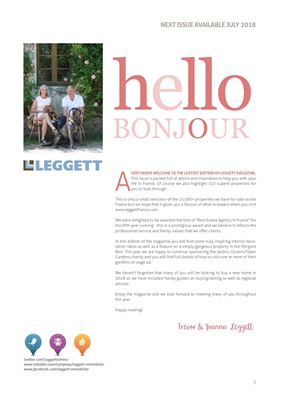 LEGGETTPRESTIGE
3
A
VERY WARM WELCOME TO THE LASTEST EDITION OF LEGGETT MAGAZINE.
This issue is packed full of advice and inspiration to help you with your
life in France. Of course we also highlight 322 superb properties for
you to look through.
This is only a small selection of the 15,000+ properties we have for sale across
France but we hope that it gives you a flavour of what to expect when you visit
We were delighted to be awarded the title of "Best Estate Agency in France" for
the fifth year running - this is a prestigious award and we believe it reflects the
professional service and family values that we offer clients.
In this edition of the magazine you will find some truly inspiring interior decoration
ideas as well as a feature on a simply gorgeous property in the Périgord
Noir. This year we are happy to continue sponsoring the Jardins Ouverts/Open
Gardens charity and you will find full details of how to visit one or more of their
gardens on page 42.
We haven't forgotten that many of you will be looking to buy a new home in
2018 so we have included handy guides on buying/selling as well as regional
articles.
Enjoy the magazine and we look forward to meeting many of you throughout
the year.
Happy reading!
Trevor & Joanna Leggett
NEXT ISSUE AVAILABLE JULY 2018
twitter.com/LeggettsImmo
www.linkedin.com/company/leggett-immobilier
www.facebook.com/leggett.immobilier helloBONJOUR