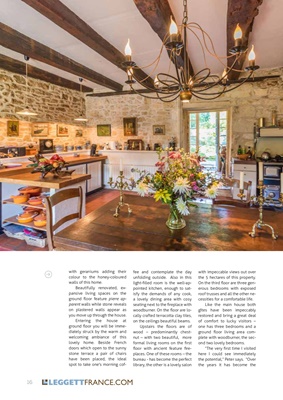 16 LEGGETTFRANCE.COM
with geraniums adding their
colour to the honey-coloured
walls of this home.
Beautifully renovated, expansive
living spaces on the
ground floor feature pierre apparent
walls while stone reveals
on plastered walls appear as
you move up through the house.
Entering the house at
ground floor you will be immediately struck by
the warm and
welcoming ambiance of this
lovely home. Beside French
doors which open to the sunny
stone terrace a pair of chairs
have been placed, the ideal
spot to take one's morning coffee
and contemplate the day
unfolding outside. Also in this
light-filled room is the well-appointed kitchen, enough to satisfy
the
demands of any cook,
a lovely dining area with cosy
seating next to the fireplace with
woodburner. On the floor are locally crafted
terracotta clay tiles,
on the ceilings beautiful beams.
Upstairs the floors are of
wood - predominantly chestnut -
with two beautiful, more
formal living rooms on the first
floor with ancient feature fireplaces.
One of these rooms - the
bureau - has become the perfect
library, the other is a lovely salon
with impeccable views out over
the 5 hectares of this property.
On the third floor are three generous
bedrooms with exposed
roof trusses and all the other necessities
for a comfortable life.
Like the main house both
gîtes have been impeccably
restored and bring a great deal
of comfort to lucky visitors -
one has three bedrooms and a
ground floor living area complete with woodburner,
the second two
lovely bedrooms.
"The very first time I visited
here I could see immediately
the potential," Peter says. "Over
the years it has become the