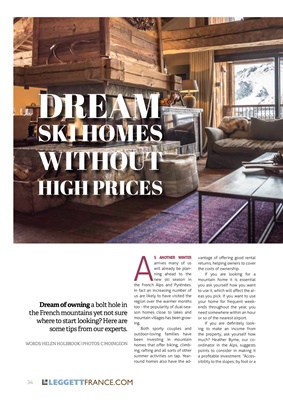 A
S ANOTHER WINTER
arrives many of us
will already be planning ahead to the
new ski season in
the French Alps and Pyrénées.
In fact an increasing number of
us are likely to have visited the
region over the warmer months
too - the popularity of dual-season homes close to lakes
and
mountain villages has been growing.
Both sporty couples and
outdoor-loving families have
been investing in mountain
homes that offer biking, climbing,
rafting and all sorts of other
summer activities on tap. Yearround
homes also have the advantage
of offering good rental
returns, helping owners to cover
the costs of ownership.
If you are looking for a
mountain home it is essential
you ask yourself how you want
to use it, which will affect the areas you
pick. If you want to use
your home for frequent weekends throughout
the year, you
need somewhere within an hour
or so of the nearest airport.
If you are definitely looking to make
an income from
the property, ask yourself how
much? Heather Byrne, our coordinator
in the Alps, suggests
points to consider in making it
a profitable investment. "Accessibility to the slopes; by
foot or a
Dream of owning a bolt hole in
the French mountains yet not sure
where to start looking? Here are
some tips from our experts.
DREAM
SKI HOMES
WITHOUT
HIGH PRICES
WORDS: HELEN HOLBROOK | PHOTOS: C MOINGEON
34 LEGGETTFRANCE.COM