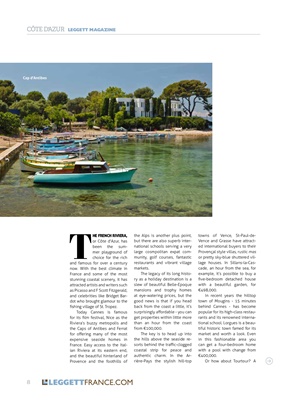 8 LEGGETTFRANCE.COM
CÔTE D'AZUR LEGGETT MAGAZINE
T
HE FRENCH RIVIERA,
or CÔte d'Azur, has
been the summer
playground of
choice for the rich
and famous for over a century
now. With the best climate in
France and some of the most
stunning coastal scenery, it has
attracted artists and writers such
as Picasso and F Scott Fitzgerald,
and celebrities like Bridget Bardot who
brought glamour to the
fishing village of St. Tropez.
Today Cannes is famous
for its film festival, Nice as the
Riviera's buzzy metropolis and
the Caps of Antibes and Ferrat
for offering many of the most
expensive seaside homes in
France. Easy access to the Italian Riviera
at its eastern end,
and the beautiful hinterland of
Provence and the foothills of
the Alps is another plus point,
but there are also superb international schools serving a very
large cosmpolitan expat community,
golf courses, fantastic
restaurants and vibrant village
markets.
The legacy of its long history as a holiday destination is a
slew of beautiful Belle-Epoque
mansions and trophy homes
at eye-watering prices, but the
good news is that if you head
back from the coast a little, it's
surprisingly affordable - you can
get properties within little more
than an hour from the coast
from €100,000.
The key is to head up into
the hills above the seaside resorts behind
the traffic-clogged
coastal strip for peace and
authentic charm. In the Arrière-Pays
the stylish hill-top
towns of Vence, St-Paul-deVence
and Grasse have attracted international buyers
to their
Provençal style villas, rustic mas
or pretty sky-blue shuttered village
houses. In Sillans-la-Cascade,
an hour from the sea, for
example, it's possible to buy a
five-bedroom detached house
with a beautiful garden, for
€498,000.
In recent years the hilltop
town of Mougins - 15 minutes
behind Cannes - has become
popular for its high-class restaurants
and its renowned international school. Lorgues
is a beautiful historic town
famed for its
market and worth a look. Even
in this fashionable area you
can get a four-bedroom home
with a pool with change from
€400,000.
Or how about Tourtour?  A
Cap d'Antibes