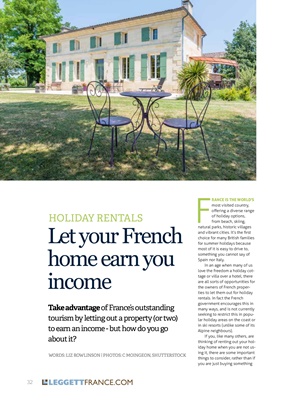 Let your French
home earn you
income
Take advantage of France's outstanding
tourism by letting out a property (or two)
to earn an income - but how do you go
about it?
HOLIDAY RENTALS
32
F
RANCE IS THE WORLD'S
most visited country,
offering a diverse range
of holiday options,
from beach, skiing,
natural parks, historic villages
and vibrant cities. It's the first
choice for many British families
for summer holidays because
most of it is easy to drive to,
something you cannot say of
Spain nor Italy.
In an age when many of us
love the freedom a holiday cottage
or villa over a hotel, there
are all sorts of opportunities for
the owners of French properties to let them out for
holiday
rentals. In fact the French
government encourages this in
many ways, and is not currently
seeking to restrict this in popular holiday areas
on the coast or
in ski resorts (unlike some of its
Alpine neighbours).
If you, like many others, are
thinking of renting out your holiday home when you
are not using it, there
are some important
things to consider, rather than if
you are just buying something
WORDS: LIZ ROWLINSON | PHOTOS: C MOINGEON, SHUTTERSTOCK
LEGGETTFRANCE.COM