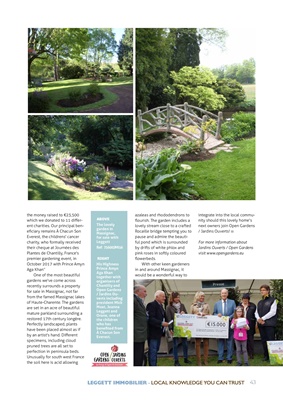 the money raised to €23,500
which we donated to 11 different charities. Our principal beneficiary
remains À Chacun Son
Everest, the childrens' cancer
charity, who formally received
their cheque at Journées des
Plantes de Chantilly, France's
premier gardening event, in
October 2017 with Prince Amyn
Aga Khan"
One of the most beautiful
gardens we've come across
recently surrounds a property
for sale in Massignac, not far
from the famed Massignac lakes
of Haute-Charente. The gardens
are set in an acre of beautiful
mature parkland surrounding a
restored 17th century longère.
Perfectly landscaped, plants
have been placed almost as if
by an artist's hand. Different
specimens, including cloud
pruned trees are all set to
perfection in peninsula beds.
Unusually for south west France
the soil here is acid allowing
azaleas and rhododendrons to
flourish. The garden includes a
lovely stream close to a crafted
Rocaille bridge tempting you to
pause and admire the beautiful pond which is surrounded
by drifts of white phlox and
pink roses in softly coloured
flowerbeds.
With other keen gardeners
in and around Massignac, it
would be a wonderful way to
integrate into the local community should this lovely
home's
next owners join Open Gardens
/ Jardins Ouverts!
For more information about
Jardins Ouverts / Open Gardens
visit www.opengardens.eu
43
ABOVE
The lovely
garden in
Massignac,
for sale with
Leggett
Ref: 75600JMI16
RIGHT
His Highness
Prince Amyn
Aga Khan
together with
organisers of
Chantilly and
Open Gardens
/ Jardins Ouverts
including
president Mick
Moat, Joanna
Leggett and
Orane, one of
the children
who has
benefited from
À Chacun Son
Everest.
LEGGETT IMMOBILIER - LOCAL KNOWLEDGE YOU CAN TRUST
Jardinage et Esprit de Générosité