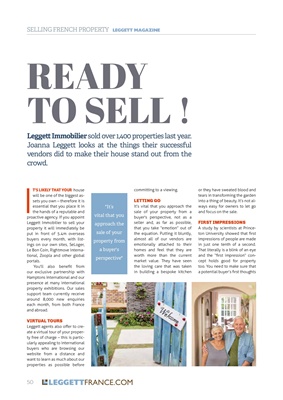 "It's
vital that you
approach the
sale of your
property from
a buyer's
perspective"
50 LEGGETTFRANCE.COM
Leggett Immobilier sold over 1,400 properties last year.
Joanna Leggett looks at the things their successful
vendors did to make their house stand out from the
crowd.
committing to a viewing.
LETTING GO
It's vital that you approach the
sale of your property from a
buyer's perspective, not as a
seller and, as far as possible,
that you take "emotion" out of
the equation. Putting it bluntly,
almost all of our vendors are
emotionally attached to their
homes and feel that they are
worth more than the current
market value. They have seen
the loving care that was taken
in building a bespoke kitchen
or they have sweated blood and
tears in transforming the garden
into a thing of beauty. It's not always easy
for owners to let go
and focus on the sale.
FIRST IMPRESSIONS
A study by scientists at Princeton University
showed that first
impressions of people are made
in just one tenth of a second.
That literally is a blink of an eye
and the "first impression" concept
holds good for property
too. You need to make sure that
a potential buyer's first thoughts
I
T'S LIKELY THAT YOUR house
will be one of the biggest assets you
own - therefore it is
essential that you place it in
the hands of a reputable and
proactive agency. If you appoint
Leggett Immobilier to sell your
property it will immediately be
put in front of 5.4m overseas
buyers every month, with listings on our own
sites, SeLoger,
Le Bon Coin, Rightmove International, Zoopla
and other global
portals.
You'll also benefit from
our exclusive partnership with
Hamptons International and our
presence at many international
property exhibitions. Our sales
support team currently receive
around 8,000 new enquiries
each month, from both France
and abroad.
VIRTUAL TOURS
Leggett agents also offer to create a virtual tour of
your property free
of charge - this is particularly appealing to international
buyers who are browsing our
website from a distance and
want to learn as much about our
properties as possible before
READY
TO SELL !
SELLING FRENCH PROPERTY LEGGETT MAGAZINE