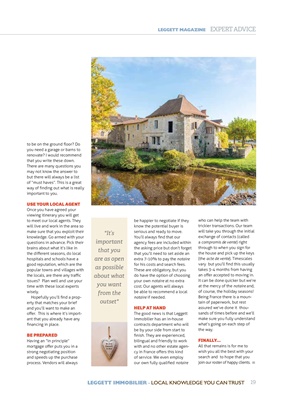 "It's
important
that you
are as open
as possible
about what
you want
from the
outset"
LEGGETT MAGAZINE EXPERT ADVICE
to be on the ground floor? Do
you need a garage or barns to
renovate? I would recommend
that you write these down.
There are many questions you
may not know the answer to
but there will always be a list
of "must haves". This is a great
way of finding out what is really
important to you.
USE YOUR LOCAL AGENT
Once you have agreed your
viewing itinerary you will get
to meet our local agents. They
will live and work in the area so
make sure that you exploit their
knowledge. Go armed with your
questions in advance. Pick their
brains about what it's like in
the different seasons, do local
hospitals and schools have a
good reputation, which are the
popular towns and villages with
the locals, are there any traffic
issues? Plan well and use your
time with these local experts
wisely.
Hopefully you'll find a property that matches your
brief
and you'll want to make an
offer. This is where it's important that you
already have any
financing in place.
BE PREPARED
Having an "in principle"
mortgage offer puts you in a
strong negotiating position
and speeds up the purchase
process. Vendors will always
be happier to negotiate if they
know the potential buyer is
serious and ready to move.
You'll always find that our
agency fees are included within
the asking price but don't forget
that you'll need to set aside an
extra 7-10% to pay the notaire
for his costs and search fees.
These are obligatory, but you
do have the option of choosing
your own notaire at no extra
cost. Our agents will always
be able to recommend a local
notaire if needed.
HELP AT HAND
The good news is that Leggett
Immobilier has an in-house
contracts department who will
be by your side from start to
finish. They are experienced,
bilingual and friendly to work
with and no other estate agency in France
offers this kind
of service. We even employ
our own fully qualified notaire
who can help the team with
trickier transactions. Our team
will take you through the initial
exchange of contacts (called
a compromis de vente) right
through to when you sign for
the house and pick up the keys
(the acte de vente). Timescales
vary but you'll find this usually
takes 3-4 months from having
an offer accepted to moving in.
It can be done quicker but we're
at the mercy of the notaire and,
of course, the holiday seasons!
Being France there is a mountain of
paperwork, but rest
assured we've done it thousands of
times before and we'll
make sure you fully understand
what's going on each step of
the way.
FINALLY...
All that remains is for me to
wish you all the best with your
search and to hope that you
join our roster of happy clients.
19
LEGGETT IMMOBILIER - LOCAL KNOWLEDGE YOU CAN TRUST