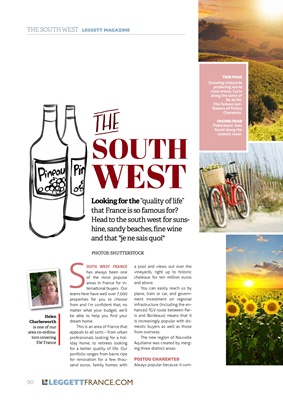 90 LEGGETTFRANCE.COM
S
OUTH WEST FRANCE
has always been one
of the most popular
areas in France for international
buyers. Our
teams here have well over 7,000
properties for you to choose
from and I'm confident that, no
matter what your budget, we'll
be able to help you find your
dream home.
This is an area of France that
appeals to all sorts - from urban
professionals looking for a holiday home,
to retirees looking
for a better quality of life. Our
portfolio ranges from barns ripe
for renovation for a few thousand euros,
family homes with
Looking for the "quality of life"
that France is so famous for?
Head to the south west for sunshine,
sandy beaches, fine wine
and that "je ne sais quoi"
PHOTOS: SHUTTERSTOCK
THE SOUTH WEST LEGGETT MAGAZINE
A
SOUTH
WEST
a pool and views out over the
vineyards, right up to historic
chateaux for ten million euros
and above.
You can easily reach us by
plane, train or car, and government investment
on regional
infrastructure (including the enhanced
TGV route between Paris and
Bordeaux) means that it
is increasingly popular with domestic buyers
as well as those
from overseas.
The new region of Nouvelle
Aquitaine was created by merging three
distinct areas:
POITOU CHARENTES
Always popular because it comHelen
Charlesworth
is one of our
area co-ordinators
covering
SW France
THIS PAGE
Stunning vineyards
producing world
class wines; Cycle
along the lanes of
Ile de Ré;
The famous sunflowers
of Poitou
Charentes.
FACING PAGE
Fishermans huts
found along the
atlantic coast.