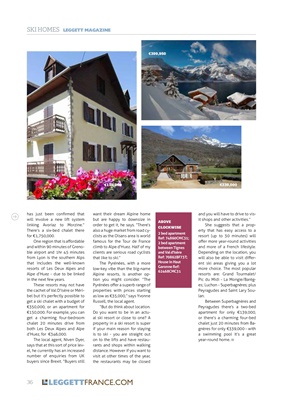 36 LEGGETTFRANCE.COM
has just been confirmed that
will involve a new lift system
linking Avoriaz to Morzine."
There's a six-bed chalet there
for €1,750,000.
One region that is affordable
and within 90 minutes of Grenoble airport
and 1hr 45 minutes
from Lyon is the southern Alps
that includes the well-known
resorts of Les Deux Alpes and
Alpe d'Huez - due to be linked
in the next few years.
These resorts may not have
the cachet of Val D'Isère or Méribel but it's perfectly
possible to
get a ski chalet with a budget of
€350,000, or an apartment for
€150,000. For example, you can
get a charming four-bedroom
chalet 20 minutes drive from
both Les Deux Alpes and Alpe
d'Huez, for €346,000.
The local agent, Niven Dyer,
says that at this sort of price level, he currently
has an increased
number of enquiries from UK
buyers since Brexit. "Buyers still
want their dream Alpine home
but are happy to downsize in
order to get it, he says. "There's
also a huge market from road cyclists as the Oisans area
is world
famous for the Tour de France
climb to Alpe d'Huez. Half of my
clients are serious road cyclists
that like to ski."
The Pyrénées, with a more
low-key vibe than the big-name
Alpine resorts, is another option you
might consider. "The
Pyrénées offer a superb range of
properties with prices starting
as low as €35,000," says Yvonne
Russell, the local agent.
"But do think about location.
Do you want to be in an actual ski resort
or close to one? A
property in a ski resort is super
if your main reason for staying
is to ski - you are straight out
on to the lifts and have restaurants
and shops within walking
distance.  However if you want to
visit at other times of the year,
the restaurants may be closed
and you will have to drive to visit shops and other activities."
She suggests that a property that has easy access
to a
resort (up to 30 minutes) will
offer more year-round activities
and more of a French lifestyle.
Depending on the location, you
will also be able to visit different ski areas
giving you a lot
more choice.  The most popular
resorts are: Grand Tourmalet/
Pic du Midi - La Mongie/Barèges;
Luchon - Superbagnères; plus
Peyragudes and Saint Lary Soulan.
Between Superbagnères and
Peyragudes there's a two-bed
apartment for only €139,000,
or there's a charming four-bed
chalet just 20 minutes from Bagnères
for only €339,000 - with
a swimming pool it's a great
year-round home.
ABOVE
CLOCKWISE
2 bed apartment
Ref: 74860CMC31;
2 bed apartment
between Tignes
and Val d'Isère
Ref: 70862BF73T;
House in Haut
Garonne Ref:
62468CMC31
SKI HOMES LEGGETT MAGAZINE
€139,000 €339,000
€399,950