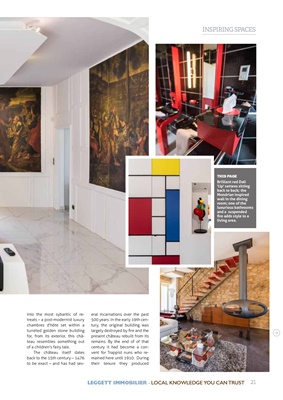 2121
LEGGETT IMMOBILIER - LOCAL KNOWLEDGE YOU CAN TRUST
INSPIRING SPACES
into the most sybaritic of retreats
- a post-modernist luxury
chambres d'hôte set within a
turreted golden stone building
for, from its exterior, this château resembles
something out
of a children's fairy tale.
The château itself dates
back to the 15th century - 1476
to be exact - and has had several
incarnations over the past
500 years. In the early 19th century,
the original building was
largely destroyed by fire and the
present château rebuilt from its
remains. By the end of of that
century it had become a convent
for Trappist nuns who remained here
until 1910. During
their tenure they produced
THIS PAGE
Brilliant red Dali
'Lip' settees sitting
back to back; the
Mondrian inspired
wall in the dining
room; one of the
luxurious bathrooms
and a suspended
fire adds style to a
living area.