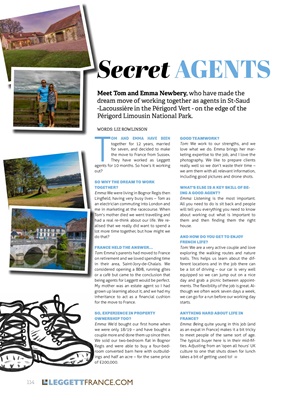 Meet Tom and Emma Newbery, who have made the
dream move of working together as agents in St-Saud
-Lacoussière in the Périgord Vert - on the edge of the
Périgord Limousin National Park.
114 LEGGETTFRANCE.COM
WORDS: LIZ ROWLINSON
T
OM AND EMMA HAVE BEEN
together for 12 years, married
for seven, and decided to make
the move to France from Sussex.
They have worked as Leggett
agents for 10 months. So how's it working
out?
SO WHY THE DREAM TO WORK
TOGETHER?
Emma: We were living in Bognor Regis then
Lingfield, having very busy lives - Tom as
an electrician commuting into London and
me in marketing at the racecourse. When
Tom's mother died we went travelling and
had a real re-think about our life. We realised that
we really did want to spend a
lot more time together, but how might we
do that?
FRANCE HELD THE ANSWER…
Tom: Emma's parents had moved to France
on retirement and we loved spending time
in their area, Saint-Jory-de-Chalais. We
considered opening a B&B, running gÎtes
or a café but came to the conclusion that
being agents for Leggett would be perfect.
My mother was an estate agent so I had
grown up learning about it, and we had my
inheritance to act as a financial cushion
for the move to France.
SO, EXPERIENCE IN PROPERTY
OWNERSHIP TOO?
Emma: We'd bought our first home when
we were only 18/19 - and have bought a
couple more and done them up since then.
We sold our two-bedroom flat in Bognor
Regis and were able to buy a four-bedroom
converted barn here with outbuildings and half an acre
- for the same price
of £200,000.
GOOD TEAMWORK?
Tom: We work to our strengths, and we
love what we do. Emma brings her marketing
expertise to the job, and I love the
photography. We like to prepare clients
really well so we don't waste their time -
we arm them with all relevant information,
including good pictures and drone shots.
WHAT'S ELSE IS A KEY SKILL OF BEING
A GOOD AGENT?
Emma: Listening is the most important.
All you need to do is sit back and people
will tell you everything you need to know
about working out what is important to
them and then finding them the right
house.
AND HOW DO YOU GET TO ENJOY
FRENCH LIFE?
Tom: We are a very active couple and love
exploring the walking routes and nature
trails. This helps us learn about the different
locations and in the job there can
be a lot of driving - our car is very well
equipped so we can jump out on a nice
day and grab a picnic between appointments. The
flexibility of the job is great. Although we
often work seven days a week,
we can go for a run before our working day
starts.
ANYTHING HARD ABOUT LIFE IN
FRANCE?
Emma: Being quite young in this job (and
as an expat in France) makes it a bit tricky
to meet people of the same sort of age.
The typical buyer here is in their mid-fifties. Adjusting from
an 'open all hours' UK
culture to one that shuts down for lunch
takes a bit of getting used to!
Secret AGENTS