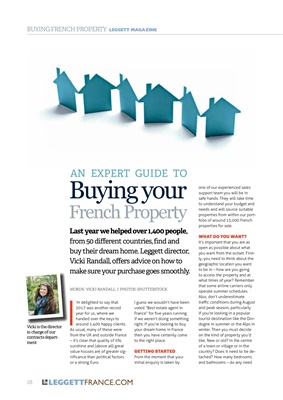 Vicki is the director
in charge of our
contracts department
I
'm delighted to say that
2017 was another record
year for us, where we
handed over the keys to
around 1,400 happy clients.
As usual, many of these were
from the UK and outside France
- it's clear that quality of life,
sunshine and (above all) great
value houses are of greater significance
than political factors
or a strong Euro.
I guess we wouldn't have been
voted "Best estate agent in
France" for five years running
if we weren't doing something
right. If you're looking to buy
your dream home in France
then you have certainly come
to the right place.
GETTING STARTED
From the moment that your
initial enquiry is taken by
one of our experienced sales
support team you will be in
safe hands. They will take time
to understand your budget and
needs and will source suitable
properties from within our portfolio
of around 15,000 French
properties for sale.
WHAT DO YOU WANT?
It's important that you are as
open as possible about what
you want from the outset. Firstly,
you need to think about the
geographic location you want
to be in - how are you going
to access the property and at
what times of year? Remember
that some airline carriers only
operate summer schedules.
Also, don't underestimate
traffic conditions during August
and peak season, particularly
if you're looking in a popular
tourist destination like the Dordogne
in summer or the Alps in
winter. Then you must decide
on the kind of property you'd
like. New or old? In the centre
of a town or village or in the
country? Does it need to be detached? How
many bedrooms
and bathrooms - do any need
Buying your
French Property
Last year we helped over 1,400 people,
from 50 different countries, find and
buy their dream home. Leggett director,
Vicki Randall, offers advice on how to
make sure your purchase goes smoothly.
WORDS: VICKI RANDALL I PHOTOS: SHUTTERSTOCK
AN EXPERT GUIDE TO
18 LEGGETTFRANCE.COM
BUYING FRENCH PROPERTY LEGGETT MAGAZINE