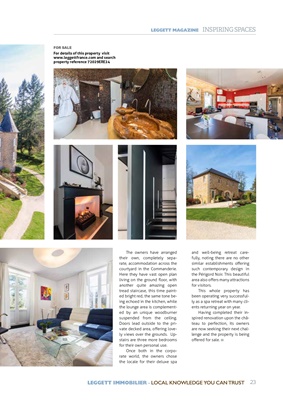 23
LEGGETT IMMOBILIER - LOCAL KNOWLEDGE YOU CAN TRUST 23
FOR SALE
For details of this property visit
www.leggettfrance.com and search
property reference 72029ERE24
LEGGETT MAGAZINE INSPIRING SPACES
The owners have arranged
their own, completely separate,
accommodation across the
courtyard in the Commanderie.
Here they have vast open plan
living on the ground floor, with
another quite amazing open
tread staircase, this time painted bright red,
the same tone being echoed in the kitchen, while
the lounge area is complemented by
an unique woodburner
suspended from the ceiling.
Doors lead outside to the private decked
area, offering lovely views
over the grounds. Upstairs
are three more bedrooms
for their own personal use.
Once both in the corporate
world, the owners chose
the locale for their deluxe spa
and well-being retreat carefully,
noting there are no other
similar establishments offering
such contemporary design in
the Périgord Noir. This beautiful
area also offers many attractions
for visitors.
This whole property has
been operating very successfully as a spa retreat
with many clients returning
year on year.
Having completed their inspired
renovation upon the château to perfection,
its owners
are now seeking their next challenge
and the property is being
offered for sale.