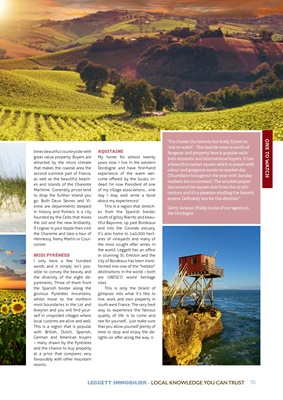 LEGGETT IMMOBILIER - LOCAL KNOWLEDGE YOU CAN TRUST
bines beautiful countryside with
great value property. Buyers are
attracted by the micro climate
that makes the coastal area the
second sunniest part of France,
as well as the beautiful beaches and islands of
the Charente
Maritime. Generally, prices tend
to drop the further inland you
go. Both Deux Sèvres and Vienne are
departments steeped
in history and Poitiers is a city
founded by the Celts that mixes
the old and the new brilliantly.
If cognac is your tipple then visit
the Charente and take a tour of
Hennessy, Remy Martin or Courvoisier.
MIDI PYRÉNÉES
I only have a few hundred
words and it simply isn't possible to convey
the beauty and
the diversity of the eight departments. Three
of them front
the Spanish border along the
glorious Pyrénées mountains,
whilst move to the northern
most boundaries in the Lot and
Aveyron and you will find yourself in unspoiled villages
where
local customs are alive and well.
This is a region that is popular
with British, Dutch, Spanish,
German and American buyers
- many drawn by the Pyrénées
and the chance to buy property
at a price that compares very
favourably with other mountain
resorts.
AQUITAINE
My home for almost twenty
years now. I live in the western
Dordogne and have first-hand
experience of the warm welcome
offered by the locals, indeed I'm now
President of one
of my village associations… one
day I may well write a book
about my experiences!
This is a region that stretches from
the Spanish border,
south of glitzy Biarritz and beautiful Bayonne,
up past Bordeaux
and into the Gironde estuary.
It's also home to 140,000 hectares
of vineyards and many of
the most sought after wines in
the world. Leggett has an office
in stunning St. Emilion and the
city of Bordeaux has been transformed
into one of the "hottest"
destinations in the world - both
are UNESCO world heritage
sites.
This is only the tiniest of
glimpses into what it's like to
live, work and own property in
south west France. The very best
way to experience the famous
quality of life is to come and
see for yourself… just make sure
that you allow yourself plenty of
time to stop and enjoy the delights on offer
along the way.
"I've chosen the historic but lively Eymet as
"one to watch". This bastide town is south of
Bergerac and property here is popular with
both domestic and international buyers. It has
a beautiful market square which is awash with
colour and gorgeous scents on market day
(Thursdays throughout the year with Sunday
markets too in summer). The arcaded properties
around the square date from the 13-15th
century and it's a pleasure strolling the historic
streets. Definitely one for the shortlist."
Gerry Jackson Phillip is one of our agents in
the Dordogne
ONE TO WATCH
91