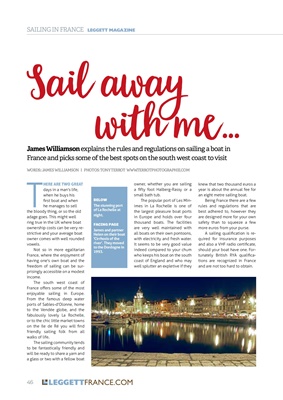 Sail away
with me...James Williamson explains the rules and regulations on sailing a boat in
France and picks some of the best spots on the south west coast to visit
owner, whether you are sailing
a fifty foot Halberg-Rassy or a
small bath tub.
The popular port of Les Minimes in La Rochelle
is one of
the largest pleasure boat ports
in Europe and holds over four
thousand boats. The facilities
are very well maintained with
all boats on their own pontoons,
with electricity and fresh water.
It seems to be very good value
indeed compared to your chum
who keeps his boat on the south
coast of England and who may
well splutter an expletive if they
T
HERE ARE TWO GREAT
days in a man's life,
when he buys his
first boat and when
he manages to sell
the bloody thing, or so the old
adage goes. This might well
ring true in the UK where boat
ownership costs can be very restrictive
and your average boat
owner comes with well rounded
vowels.
Not so in more egalitarian
France, where the enjoyment of
having one's own boat and the
freedom of sailing can be surprisingly accessible
on a modest
income.
The south west coast of
France offers some of the most
enjoyable sailing in Europe.
From the famous deep water
ports of Sables-d'Olonne, home
to the Vendée globe, and the
fabulously lovely La Rochelle,
or to the chic little market towns
on the Ile de Ré you will find
friendly sailing folk from all
walks of life.
The sailing community tends
to be fantastically friendly and
will be ready to share a yarn and
a glass or two with a fellow boat
knew that two thousand euros a
year is about the annual fee for
an eight metre sailing boat.
Being France there are a few
rules and regulations that are
best adhered to, however they
are designed more for your own
safety than to squeeze a few
more euros from your purse.
A sailing qualification is required
for insurance purposes
and also a VHF radio certificate,
should your boat have one. Fortunately British
RYA qualifications are
recognized in France
and are not too hard to obtain.
BELOW
The stunning port
of La Rochelle at
night.
FACING PAGE
James and partner
Helen on their boat
'Cirrhosis of the
river'. They moved
to the Dordogne in
1993.
WORDS:: JAMES WILLIAMSON I PHOTOS: TONY TERROT www.terrotphotographie.com
46 LEGGETTFRANCE.COM
46
SAILING IN FRANCE LEGGETT MAGAZINE