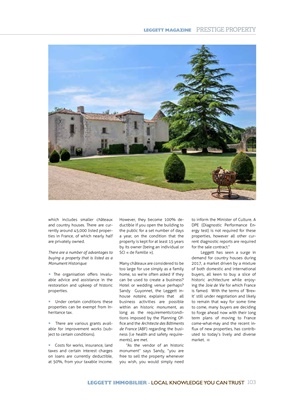 which includes smaller châteaux
and country houses. There are currently
around 45,000 listed properties in France,
of which nearly half
are privately owned.
There are a number of advantages to
buying a property that is listed as a
Monument Historique:
• The organisation offers invaluable advice
and assistance in the
restoration and upkeep of historic
properties.
• Under certain conditions these
properties can be exempt from Inheritance
tax.
• There are various grants available for
improvement works (subject to certain
conditions).
• Costs for works, insurance, land
taxes and certain interest charges
on loans are currently deductible,
at 50%, from your taxable income.
However, they become 100% deductible if you
open the building to
the public for a set number of days
a year, on the condition that the
property is kept for at least 15 years
by its owner (being an individual or
SCI « de Famille »).
Many châteaux are considered to be
too large for use simply as a family
home, so we're often asked if they
can be used to create a business?
Hotel or wedding venue perhaps?
Sandy Guyonnet, the Leggett inhouse notaire,
explains that all
business activities are possible
within an historic monument, as
long as the requirements/conditions imposed by
the Planning Office
and the Architecte des Bâtiments
de France (ABF) regarding the business
(i.e health and safety requirements), are
met.
"As the vendor of an historic
monument" says Sandy, "you are
free to sell the property whenever
you wish, you would simply need
to inform the Minister of Culture. A
DPE (Diagnostic Performance Energy
test) is not required for these
properties, however all other current
diagnostic reports are required
for the sale contract."
Leggett has seen a surge in
demand for country houses during
2017, a market driven by a mixture
of both domestic and international
buyers, all keen to buy a slice of
historic architecture while enjoying the
Joie de Vie for which France
is famed. With the terms of 'Brexit' still under negotiation
and likely
to remain that way for some time
to come, many buyers are deciding
to forge ahead now with their long
term plans of moving to France
come-what-may and the recent influx of
new properties, has contributed to today's lively
and diverse
market.
LEGGETT MAGAZINE PRESTIGE PROPERTY
103
LEGGETT IMMOBILIER - LOCAL KNOWLEDGE YOU CAN TRUST