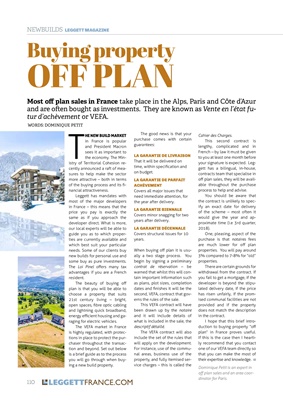 NEWBUILDS LEGGETT MAGAZINE
110110110 LEGGETTFRANCE.COM
Albi
Cahier des Charges.
This second contract is
lengthy, complicated and in
French - by law it must be given
to you at least one month before
your signature is expected. Leggett
has a bilingual, in-house,
contracts team that specialise in
off plan sales, they will be available throughout
the purchase
process to help and advise.
You should be aware that
the contract is unlikely to specify an
exact date for delivery
of the scheme - most often it
would give the year and approximate
time (i.e 3rd quarter,
2018).
One, pleasing, aspect of the
purchase is that notaires fees
are much lower for off plan
properties. You will pay around
3% compared to 7-8% for "old"
properties.
There are certain grounds for
withdrawal from the contract. If
you fail to get a mortgage, if the
developer is beyond the stipulated delivery
date, if the price
has risen unfairly, if the promised communal
facilities are not
provided and if the property
does not match the description
in the contract.
I hope that this brief introduction to
buying property "off
plan" in France proves useful.
If this is the case then I heartily recommend
that you contact
one of our VEFA team directly so
that you can make the most of
their expertise and knowledge.
Dominique Petit is an expert in
off plan sales and an area coordinator for Paris.
T
HE NEW BUILD MARKET
in France is popular
and President Macron
sees it as important to
the economy. The Ministry of
Territorial Cohesion recently
announced a raft of measures
to help make the sector
more attractive - both in terms
of the buying process and its financial attractiveness.
Leggett has mandates with
most of the major developers
in France - this means that the
price you pay is exactly the
same as if you approach the
developer direct. What is more,
our local experts will be able to
guide you as to which properties are
currently available and
which best suit your particular
needs. Some of our clients buy
new builds for personal use and
some buy as pure investments.
The Loi Pinel offers many tax
advantages if you are a French
resident.
The beauty of buying off
plan is that you will be able to
choose a property that suits
21st century living - bright,
open spaces, fibre optic cabling
and lightning quick broadband,
energy efficient housing and garaging
for electric vehicles.
The VEFA market in France
is highly regulated, with protections in place
to protect the purchaser throughout
the transaction and beyond.
Set out below
is a brief guide as to the process
you will go through when buying a new
build property.
The good news is that your
purchase comes with certain
guarantees:
LA GARANTIE DE LIVRAISON
That it will be delivered on
time, within specification and
on budget.
LA GARANTIE DE PARFAIT
ACHÈVEMENT
Covers all major issues that
need immediate attention, for
the year after delivery.
LA GARANTIE BIENNALE
Covers minor snagging for two
years after delivery.
LA GARANTIE DÉCENNALE
Covers structural issues for 10
years.
When buying off plan it is usually a two
stage process. You
begin by signing a preliminary
contrat de réservation - be
warned that whilst this will contain important information
such
as plans, plot sizes, completion
dates and finishes it will be the
second, VEFA, contract that governs the rules of
the sale.
This VEFA contract will have
been drawn up by the notaire
and it will include details of
what is included in the sale, the
descriptif détaillé.
The VEFA contract will also
include the set of the rules that
will apply on the development.
For instance, use of the communal areas,
business use of the
property, and fully itemised service
charges - this is called the
Most off plan sales in France take place in the Alps, Paris and CÔte d'Azur
and are often bought as investments. They are known as Vente en l'état futur
d'achèvement or VEFA.
Buying property
OFF PLAN
WORDS: DOMINIQUE PETIT