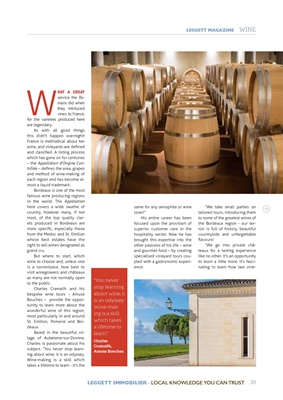 39
W
HAT A GREAT
service the Romans did when
they intrduced
vines to France,
for the varieties produced here
are legendary.
As with all good things
this didn't happen overnight!
France is methodical about her
wine, and vineyards are defined
and classified. A listing process
which has gone on for centuries
- the Appellation d'Origine Contrôlée
- defines the area, grapes
and method of wine-making of
each region and has become almost a liquid trademark.
Bordeaux is one of the most
famous wine producing regions
in the world. The Appellation
here covers a wide swathe of
country, however many, if not
most, of the top quality clarets produced
in Bordeaux are
more specific, especially those
from the Medoc and St. Emilion
whose best estates have the
right to sell wines designated as
grand cru.
But where to start, which
wine to choose and, unless one
is a connoisseur, how best to
visit winegrowers and châteaux
as many are not normally open
to the public.
Charles Cramailh and his
bespoke wine tours - Amuse
Bouches - provide the opportunity to learn more
about the
wonderful wine of this region,
most particularly in and around
St. Emilion, Pomerol and Bordeaux.
Based in the beautiful village
of Aubeterre-sur-Dronne,
Charles is passionate about his
subject: "You never stop learning about wine,
it is an odyssey.
Wine-making is a skill which
takes a lifetime to learn - it's the
same for any oenophile or wine
lover!"
His entire career has been
focused upon the provision of
superior customer care in the
hospitality sector. Now he has
brought this expertise into the
other passions of his life - wine
and gourmet food - by creating
specialised vineyard tours coupled with
a gastronomic experience.
"You never
stop learning
about wine, it
is an odyssey.
Wine-making is a skill
which takes
a lifetime to
learn."
Charles
Cramailh,
Amuse Bouches
"We take small parties on
tailored tours, introducing them
to some of the greatest wines of
the Bordeaux region - our terroir
is full of history, beautiful
countryside and unforgettable
flavours!
"We go into private châteaux for
a tasting experience
like no other. It's an opportunity
to learn a little more. It's fascinating to learn how
two vineLEGGETT
IMMOBILIER - LOCAL KNOWLEDGE YOU CAN TRUST
LEGGETT MAGAZINE WINE