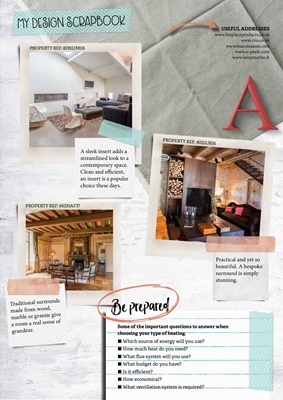 26
MY DESIGN SCRAPBOOK
PROPERTY REF: 40212JB16
PROPERTY REF: 81592JM116
PROPERTY REF: 66335AF37A sleek insert adds a
streamlined look to a
contemporary space.
Clean and efficient,
an insert is a popular
choice these days.
Traditional surrounds
made from wood,
marble or granite give
a room a real sense of
grandeur.
Practical and yet so
beautiful. A bespoke
surround is simply
stunning.
USEFUL ADDRESSES
Some of the important questions to answer when
choosing your type of heating.
d Which source of energy will you use?
d How much heat do you need?
d What flue system will you use?
d What budget do you have?
d Is it efficient?
d How economical?
d What ventilation system is required?
Be preparedZ
J