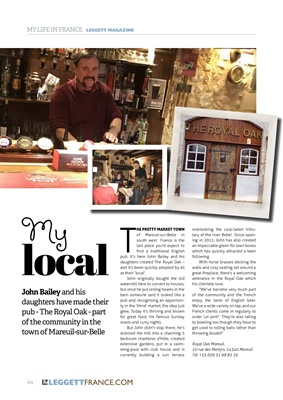 44 LEGGETTFRANCE.COM
My
localJohn Bailey and his
daughters have made their
pub - The Royal Oak - part
of the community in the
town of Mareuil-sur-Belle T
HE PRETTY MARKET TOWN
of Mareuil-sur-Belle in
south west France is the
last place you'd expect to
find a traditional English
pub. It's here John Bailey and his
daughters created The Royal Oak -
and it's been quickly adopted by all
as their 'local'.
John originally bought the old
watermill here to convert to houses,
but once he put ceiling beams in the
barn someone said it looked like a
pub and, recognising an opportunity in the 'thirst'
market, the idea just
grew. Today it's thriving and known
for great food, his famous Sunday
roasts and curry nights.
But John didn't stop there, he's
restored the mill into a charming 5
bedroom chambres d'hôte, created
extensive gardens, put in a swimming-pool with
club house and is
currently building a sun terrace
overlooking the carp-laden tributary of
the river Belle! Since opening in 2011, John has also created
an impeccable green for lawn bowls
which has quickly attracted a keen
following.
With horse brasses decking the
walls and cosy seating set around a
great fireplace, there's a welcoming
ambiance in the Royal Oak which
his clientele love.
"We've become very much part
of the community and the French
enjoy the taste of English beer.
We've a wide variety on tap, and our
French clients come in regularly to
order 'un pint!'. They're also taking
to bowling too though they have to
get used to rolling balls rather than
throwing boules!"
Royal Oak Mareuil,
20 rue des Martyrs, 24340 Mareuil.
Tel: +33 (0)9 51 98 85 16
MY LIFE IN FRANCE LEGGETT MAGAZINE