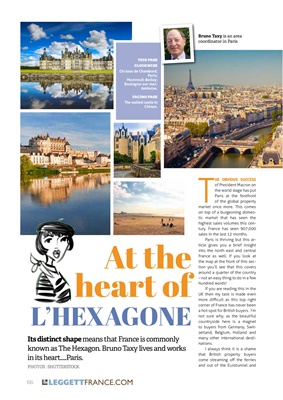 At the
heart of
L'HEXAGONE
66
THIS PAGE
CLOCKWISE
Château de Chambord;
Paris;
Montreuil-Bellay;
Boulogne-sur-mer;
Amboise.
FACING PAGE
The walled castle in
Chinon.
Its distinct shape means that France is commonly
known as The Hexagon. Bruno Taxy lives and works
in its heart…..Paris.
LEGGETTFRANCE.COM
T
HE OBVIOUS SUCCESS
of President Macron on
the world stage has put
Paris at the forefront
of the global property
market once more. This comes
on top of a burgeoning domestic market
that has seen the
highest sales volumes this century.
France has seen 907,000
sales in the last 12 months.
Paris is thriving but this article gives
you a brief insight
into the north east and central
France as well. If you look at
the map at the front of this section you'll
see that this covers
around a quarter of the country
- not an easy thing to do in a few
hundred words!
If you are reading this in the
UK then my task is made even
more difficult as this top right
corner of France has never been
a hot-spot for British buyers. I'm
not sure why, as the beautiful
countryside here is a magnet
to buyers from Germany, Switzerland,
Belgium, Holland and
many other international destinations.
I always think it is a shame
that British property buyers
come streaming off the ferries
and out of the Eurotunnel and
Bruno Taxy is an area
coordinator in Paris
PHOTOS : SHUTTERSTOCK