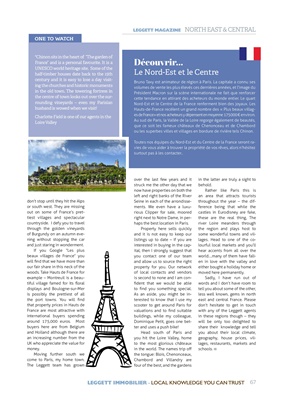 67
LEGGETT MAGAZINE NORTH EAST & CENTRAL
LEGGETT IMMOBILIER - LOCAL KNOWLEDGE YOU CAN TRUST
don't stop until they hit the Alps
or south west. They are missing
out on some of France's prettiest villages
and spectacular
countryside. I defy you to travel
through the golden vineyards
of Burgundy on an autumn evening without stopping the car
and just staring in wonderment.
If you Google "Les plus
beaux villages de France" you
will find that we have more than
our fair share in this neck of the
woods. Take Hauts de France for
example - Montreuil is a beautiful village
famed for its floral
displays and Boulogne-sur-Mer
is possibly the prettiest of all
the port towns. You will find
that property prices in Hauts de
France are most attractive with
international buyers spending
around 175,000 euros. Most
buyers here are from Belgium
and Holland although there are
an increasing number from the
UK who appreciate the value for
money.
Moving further south we
come to Paris, my home town.
The Leggett team has grown
"Chinon sits in the heart of "The garden of
France" and is a personal favourite. It is a
UNESCO world heritage site. Some of the
half-timber houses date back to the 15th
century and it is easy to lose a day visiting the churches
and historic monuments
in the old town. The towering fortress in
the centre of town looks out over the surrounding
vineyards - even my Parisian
husband is wowed when we visit!
Charlotte Field is one of our agents in the
Loire Valley
ONE TO WATCH
over the last few years and it
struck me the other day that we
now have properties on both the
left and right banks of the River
Seine in each of the arrondissements. We
even have a luxurious Clipper for
sale, moored
right next to Notre Dame, in perhaps the best location in Paris.
Property here sells quickly
and it is not easy to keep our
listings up to date - if you are
interested in buying in the capital, then I strongly
suggest that
you contact one of our team
and allow us to source the right
property for you. Our network
of local contacts and vendors
is second to none and I am confident that
we would be able
to find you something special.
As an aside, you might be interested
to know that I use my
scooter to get around Paris for
valuations and to find suitable
buildings, while my colleague,
Dominique Petit, goes one better and uses a push bike!
Head south of Paris and
you hit the Loire Valley, home
to the most glorious châteaux
in the world. The names trip off
the tongue: Blois, Chenonceaux,
Chambord and Villandry are
four of the best, and the gardens
in the latter are truly a sight to
behold.
Rather like Paris this is
an area that attracts tourists
throughout the year - the difference
being that while the
castles in Eurodisney are fake,
these are the real thing, The
river Loire meanders through
the region and plays host to
some wonderful towns and villages.
Head to one of the colourful local markets
and you'll
hear accents from all over the
world….many of them have fallen in love
with the valley and
either bought a holiday home or
moved here permanently.
Sadly, I have run out of
words and I don't have room to
tell you about some of the other,
less well known, gems in north
east and central France. Please
don't hesitate to get in touch
with any of the Leggett agents
in these regions though - they
will be only too delighted to
share their knowledge and tell
you about their local climate,
geography, house prices, villages,
restaurants, markets and
schools.
Découvrir...
Le Nord-Est et le Centre
Bruno Taxy est animateur de région à Paris. La capitale a connu ses
volumes de vente les plus élevés ces dernières années, et l'image du
Président Macron sur la scène internationale ne fait que renforcer
cette tendance en attirant des acheteurs du monde entier. Le quart
Nord-Est et le Centre de la France renferment bien des joyaux. Les
Hauts-de-France recèlent un grand nombre des «  Plus beaux villages de
France  » et nos acheteurs y dépensent en moyenne 175  000 € environ.
Au sud de Paris, la Vallée de la Loire regorge également de beautés,
que ce soit les fameux châteaux de Chenonceau et de Chambord
ou les superbes villes et villages en bordure de rivière tels Chinon.
Toutes nos équipes du Nord-Est et du Centre de la France seront ravies de vous
aider à trouver la propriété de vos rêves, alors n'hésitez
surtout pas à les contacter..