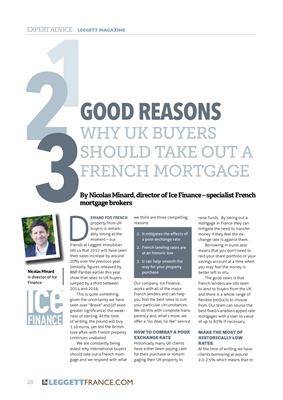 Nicolas Minard
is director of Ice
Finance.
28 LEGGETTFRANCE.COM
EXPERT ADVICE LEGGETT MAGAZINE
D
EMAND FOR FRENCH
property from UK
buyers is remarkably strong
at the
moment - our
friends at Leggett Immobilier
tell us that 2017 will have seen
their sales increase by around
20% over the previous year.
Similarly, figures released by
BNP Paribas earlier this year
show that sales to UK buyers
jumped by a third between
2014 and 2016.
This is quite something,
given the uncertainty we have
seen over "Brexit" and (of even
greater significance) the weakness
of sterling. At the time
of writing, the pound will buy
1.10 euros, yet still the British
love affair with French property
continues unabated.
We are constantly being
asked why international buyers
should take out a French mortgage
and we respond with what
By Nicolas Minard, director of Ice Finance - specialist French
mortgage brokers
GOOD REASONS
WHY UK BUYERS
SHOULD TAKE OUT A
FRENCH MORTGAGE
we think are three compelling
reasons:
1. It mitigates the effects of
a poor exchange rate
2. French lending rates are
at an historic low
3. It can help smooth the
way for your property
purchase
Our company, Ice Finance,
works with all of the major
French lenders and can help
you find the best rates to suit
your particular circumstances.
We do this with complete transparency
and, what's more, we
offer a "no deal, no fee" service.
HOW TO COMBAT A POOR
EXCHANGE RATE
Historically many UK clients
have either been paying cash
for their purchase or remortgaging their UK property
to
raise funds. By taking out a
mortgage in France they can
mitigate the need to transfer
money if they feel the exchange
rate is against them.
Borrowing in euros also
means that you don't need to
raid your share portfolio or your
savings account at a time when
you may feel the money is
better left in situ.
The good news is that
French lenders are still keen
to lend to buyers from the UK
and there is a whole range of
flexible products to choose
from. Our team can source the
best fixed/variable/capped rate
mortgages with a loan to value
of up to 85% if necessary.
MAKE THE MOST OF
HISTORICALLY LOW
RATES
At the time of writing we have
clients borrowing at around
2.0-2.5% which means that re12
3