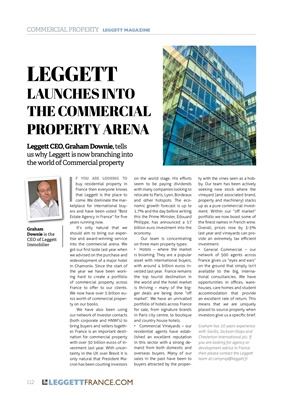 112 LEGGETTFRANCE.COM
Leggett CEO, Graham Downie, tells
us why Leggett is now branching into
the world of Commercial property
on the world stage. His efforts
seem to be paying dividends
with many companies looking to
relocate to Paris, Lyon, Bordeaux
and other hotspots. The economic growth
forecast is up to
1.7% and the day before writing
this the Prime Minister, Edouard
Philippe, has announced a 57
billion euro investment into the
economy.
Our team is concentrating
on three main property types:
• Hotels - where the market
is booming. They are a popular
asset with international buyers,
with around 4 billion euros invested
last year. France remains
the top tourist destination in
the world and the hotel market
is thriving - many of the bigger
deals are being done "off
market". We have an unrivalled
portfolio of hotels across France
for sale, from signature brands
in Paris city centre, to boutique
and country house hotels.
• Commercial Vineyards - our
residential agents have established an
excellent reputation
in this sector with a strong demand from
both domestic and
overseas buyers. Many of our
sales in the past have been to
buyers attracted by the property with the vines seen as a hobby.
Our team has been actively
seeking new stock where the
vineyard (and associated brand,
property and machinery) stacks
up as a pure commercial investment. Within
our "off market"
portfolio we now boast some of
the finest names in French wine.
Overall, prices rose by 3-5%
last year and vineyards can provide an
extremely tax efficient
investment.
• General Commercial - our
network of 500 agents across
France gives us "eyes and ears"
on the ground that simply isn't
available to the big, international consultancies.
We have
opportunities in offices, warehouses, care
homes and student
accommodation that provide
an excellent rate of return. This
means that we are uniquely
placed to source property when
investors give us a specific brief.
Graham has 20 years experience
with Savills, Jackson-Stops and
Chesterton International plc. If
you are looking for agency or
development advice in France
then please contact the Leggett
team at comprop@leggett.fr
I
F YOU ARE LOOKING TO
buy residential property in
France then everyone knows
that Leggett is the place to
come. We dominate the marketplace
for international buyers
and have been voted "Best
Estate Agency in France" for five
years running now.
It's only natural that we
should aim to bring our expertise and
award-winning service
into the commercial arena. We
got our first taste last year when
we advised on the purchase and
redevelopment of a major hotel
in Chamonix. Since the start of
the year we have been working hard
to create a portfolio
of commercial property across
France to offer to our clients.
We now have over 5 billion euros
worth of commercial property on our books.
We have also been using
our network of investor contacts
(both corporate and HNWI's) to
bring buyers and sellers together.
France is an important destination for
commercial property
with over 30 billion euros of investment
last year. With uncertainty in
the UK over Brexit it is
only natural that President Macron
has been courting investors
LEGGETT
LAUNCHES INTO
THE COMMERCIAL
PROPERTY ARENA
Graham
Downie is the
CEO of Leggett
Immobilier
COMMERCIAL PROPERTY LEGGETT MAGAZINE