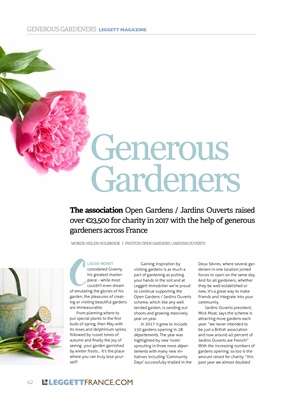 C
LAUDE MONET
considered Giverny
his greatest masterpiece
- while most
couldn't even dream
of emulating the glories of his
garden, the pleasures of creating or visiting beautiful gardens
are immeasurable.
From planning where to
put special plants to the first
buds of spring, then May with
its roses and delphinium spires;
followed by russet tones of
autumn and finally the joy of
seeing your garden garnished
by winter frosts… it's the place
where you can truly lose yourself!
Gaining inspiration by
visiting gardens is as much a
part of gardening as putting
your hands in the soil and at
Leggett Immobilier we're proud
to continue supporting the
Open Gardens / Jardins Ouverts
scheme, which like any well
tended garden, is sending out
shoots and growing massively
year on year.
In 2017 it grew to include
150 gardens opening in 28
départements. The year was
highlighted by new 'roots'
sprouting in three more départements
with many new initiatives
including 'Community
Days' successfully trialled in the
Deux Sèvres, where several gardeners
in one location joined
forces to open on the same day.
And for all gardeners, whether
they be well-established or
new, it's a great way to make
friends and integrate into your
community.
Jardins Ouverts president,
Mick Moat, says the scheme is
attracting more gardens each
year: "we never intended to
be just a British association
and now around 40 percent of
Jardins Ouverts are French!"
With the increasing numbers of
gardens opening, so too is the
amount raised for charity: "this
past year we almost doubled
The association Open Gardens / Jardins Ouverts raised
over €23,500 for charity in 2017 with the help of generous
gardeners across France
WORDS:: HELEN HOLBROOK I PHOTOS: OPEN GARDENS / JARDINS OUVERTS
Generous
Gardeners
42 LEGGETTFRANCE.COM
GENEROUS GARDENERS LEGGETT MAGAZINE