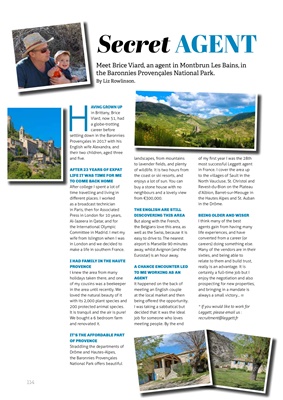 Meet Brice Viard, an agent in Montbrun Les Bains, in
the Baronnies Provençales National Park.
By Liz Rowlinson.
114 H
AVING GROWN UP
in Brittany, Brice
Viard, now 51, had
a globe-trotting
career before
settling down in the Baronnies
Provençales in 2017 with his
English wife Alexandra, and
their two children, aged three
and five.
AFTER 23 YEARS OF EXPAT
LIFE IT WAS TIME FOR ME
TO COME BACK HOME
After college I spent a lot of
time travelling and living in
different places. I worked
as a broadcast technician
in Paris, then for Associated
Press in London for 10 years,
Al-Jazeera in Qatar, and for
the International Olympic
Committee in Madrid. I met my
wife from Islington when I was
in London and we decided to
make a life in southern France.
I HAD FAMILY IN THE HAUTE
PROVENCE
I knew the area from many
holidays taken there, and one
of my cousins was a beekeeper
in the area until recently. We
loved the natural beauty of it
with its 2,000 plant species and
200 protected animal species.
It is tranquil and the air is pure!
We bought a 6 bedroom farm
and renovated it.
IT'S THE AFFORDABLE PART
OF PROVENCE
Straddling the departments of
DrÔme and Hautes-Alpes,
the Baronnies Provençales
National Park offers beautiful
landscapes, from mountains
to lavender fields, and plenty
of wildlife. It is two hours from
the coast or ski resorts, and
enjoys a lot of sun. You can
buy a stone house with no
neighbours and a lovely view
from €300,000.
THE ENGLISH ARE STILL
DISCOVERING THIS AREA
But along with the French,
the Belgians love this area, as
well as the Swiss, because it is
easy to drive to. The nearest
airport is Marseille 90 minutes
away, whilst Avignon (and the
Eurostar) is an hour away.
A CHANCE ENCOUNTER LED
TO ME WORKING AS AN
AGENT
It happened on the back of
meeting an English couple
at the local market and then
being offered the opportunity.
I was taking a sabbatical but
decided that it was the ideal
job for someone who loves
meeting people. By the end
Secret AGENT
of my first year I was the 28th
most successful Leggett agent
in France. I cover the area up
to  the villages of Sault in the
North Vaucluse, St. Christol and
Revest-du-Bion on the Plateau
d'Albion, Barret-sur-Meouge in
the Hautes Alpes and St. Auban
in the DrÔme.
BEING OLDER AND WISER
I think many of the best
agents gain from having many
life experiences, and have
converted from a career (or
careers) doing something else.
Many of the vendors are in their
sixties, and being able to
relate to them and build trust,
really is an advantage. It is
certainly a full-time job but I
enjoy the negotiation and also
prospecting for new properties,
and bringing in a mandate is
always a small victory...
* If you would like to work for
Leggett, please email us :