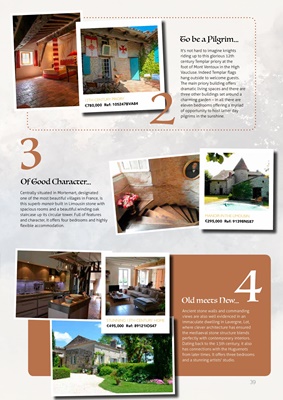 3
To be a Pilgrim...
STUNNING 13TH CENTURY HOME
€495,000 Ref: 89121IOS47
12TH CENTURY PRIORY
€780,000 Ref: 105247BVA84
Old meets New...4Ancient stone walls and commanding
views are also well evidenced in an
immaculate dwelling in Lavergne, Lot,
where clever architecture has ensured
the mediaeval stone structure blends
perfectly with contemporary interiors.
Dating back to the 13th century, it also
has connections with the Huguenots
from later times. It offers three bedrooms
and a stunning artists' studio.
Of Good Character...
Centrally situated in Mortemart, designated
one of the most beautiful villages in France, is
this superb manoir built in Limousin stone with
spacious rooms and a beautiful winding oak
staircase up its circular tower. Full of features
and character, it offers four bedrooms and highly
flexible accommodation.
MANOIR IN THE LIMOUSIN
€295,000 Ref: 91398NS87
2It's not hard to imagine knights
riding up to this glorious 12th
century Templar priory at the
foot of Mont Ventoux in the High
Vaucluse. Indeed Templar flags
hang outside to welcome guests.
The main priory building offers
dramatic living spaces and there are
three other buildings set around a
charming garden - in all there are
eleven bedrooms offering a myriad
of opportunity to host latter day
pilgrims in the sunshine.
39