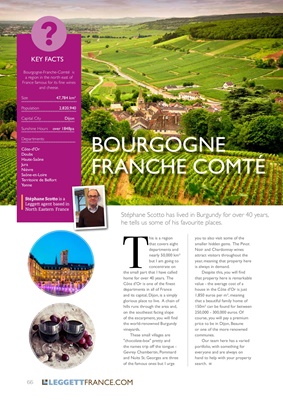 T
his is a region
that covers eight
departments and
nearly 50,000 km²
but I am going to
concentrate on
the small part that I have called
home for over 40 years. The
Côte d'Or is one of the finest
departments in all of France
and its capital, Dijon, is a simply
glorious place to live. A chain of
hills runs through the area and,
on the southeast facing slope
of the escarpment, you will find
the world-renowned Burgundy
vineyards.
These small villages are
"chocolate-box" pretty and
the names trip off the tongue -
Gevrey Chambertin, Pommard
and Nuits St. Georges are three
of the famous ones but I urge
Stéphane Scotto has lived in Burgundy for over 40 years,
he tells us some of his favourite places.
you to also visit some of the
smaller hidden gems. The Pinot
Noir and Chardonnay wines
attract visitors throughout the
year, meaning that property here
is always in demand.
Despite this, you will find
that property here is remarkable
value - the average cost of a
house in the Côte d'Or is just
1,850 euros per m², meaning
that a beautiful family home of
150m² can be found for between
250,000 - 300,000 euros. Of
course, you will pay a premium
price to be in Dijon, Beaune
or one of the more renowned
communes.
Our team here has a varied
portfolio, with something for
everyone and are always on
hand to help with your property
search.
66
BOURGOGNE
FRANCHE COMTÉ
KEY FACTS
Bourgogne-Franche-Comté is
a region in the north east of
France famous for its fine wines
and cheese.
Size 47,784 km²
Population 2,820,940
Capital City Dijon
Sunshine Hours over 1848pa
Departments:
Côte-d'Or
Doubs
Haute-Saône
Jura
Nièvre
Saône-et-Loire
Territoire de Belfort
Yonne
Stéphane Scotto is a
Leggett agent based in
North Eastern France
?
LEGGETTFRANCE.COM