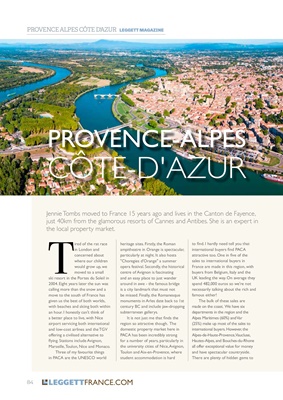 PROVENCE ALPES CÔTE D'AZUR LEGGETT MAGAZINE
84 T
ired of the rat race
in London and
concerned about
where our children
would grow up, we
moved to a small
ski resort in the Portes du Soleil in
2004. Eight years later the sun was
calling more than the snow and a
move to the south of France has
given us the best of both worlds,
with beaches and skiing both within
an hour. I honestly can't think of
a better place to live, with Nice
airport servicing both international
and low-cost airlines and the TGV
offering a civilised alternative to
flying. Stations include Avignon,
Marseille, Toulon, Nice and Monaco.
Three of my favourite things
in PACA are the UNESCO world
heritage sites. Firstly, the Roman
ampitheatre in Orange is spectacular,
particularly at night. It also hosts
"Choregies d'Orange" a summer
opera festival. Secondly, the historical
centre of Avignon is fascinating
and an easy place to just wander
around in awe - the famous bridge
is a city landmark that must not
be missed. Finally, the Romanesque
monuments in Arles date back to 1st
century BC and include jaw-dropping
subterranean gallerys.
It is not just me that finds the
region so attractive though. The
domestic property market here in
PACA has been incredibly strong
for a number of years, particularly in
the university cities of Nice, Avignon,
Toulon and Aix-en-Provence, where
student accommodation is hard
to find. I hardly need tell you that
international buyers find PACA
attractive too. One in five of the
sales to international buyers in
France are made in this region, with
buyers from Belgium, Italy and the
UK leading the way. On average they
spend 482,000 euros so we're not
necessarily talking about the rich and
famous either!
The bulk of these sales are
made on the coast. We have six
departments in the region and the
Alpes Maritimes (60%) and Var
(25%) make up most of the sales to
international buyers. However, the
Alpes-de-Haute-Provence, Vaucluse,
Hautes-Alpes, and Bouches-du-Rhone
all offer exceptional value for money
and have spectacular countryside.
There are plenty of hidden gems to
Jennie Tombs moved to France 15 years ago and lives in the Canton de Fayence,
just 40km from the glamorous resorts of Cannes and Antibes. She is an expert in
the local property market.
PROVENCE-ALPES
CÔTE-D'AZUR
LEGGETTFRANCE.COM