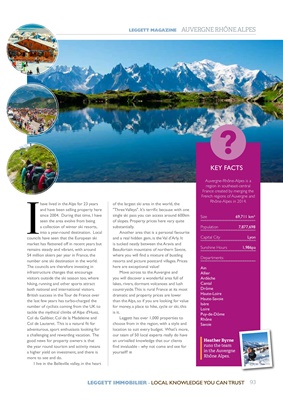 LEGGETT MAGAZINE AUVERGNE RHÔNE ALPES
I
have lived in the Alps for 23 years
and have been selling property here
since 2004. During that time, I have
seen the area evolve from being
a collection of winter ski resorts,
into a year-round destination. Local
councils have seen that the European ski
market has flattened off in recent years but
remains steady and vibrant, with around
54 million skiers per year in France, the
number one ski destination in the world.
The councils are therefore investing in
infrastructure changes that encourage
visitors outside the ski season too, where
hiking, running and other sports attract
both national and international visitors.
British success in the Tour de France over
the last few years has turbo-charged the
number of cyclists coming from the UK to
tackle the mythical climbs of Alpe d'Huez,
Col du Galibier, Col de la Madeleine and
Col de Lauteret. This is a natural fit for
adventurous, sport enthusiasts looking for
a challenging and rewarding vacation. The
good news for property owners is that
the year round tourism and activity means
a higher yield on investment, and there is
more to see and do.
I live in the Belleville valley, in the heart
KEY FACTS
Auvergne-Rhône-Alpes is a
region in southeast-central
France created by merging the
French regions of Auvergne and
Rhône-Alpes in 2014.
Size 69,711 km²
Population 7,877,698
Capital City Lyon
Sunshine Hours 1,986pa
Departments:
Ain
Allier
Ardèche
Cantal
Drôme
Haute-Loire
Haute-Savoie
Isère
Loire
Puy-de-Dôme
Rhône
Savoie
of the largest ski area in the world, the
"Three Valleys". It's terrific because with one
single ski pass you can access around 600km
of slopes. Property prices here vary quite
substantially.
Another area that is a personal favourite
and a real hidden gem, is the Val d'Arly. It
is tucked neatly between the Aravis and
Beaufortain mountains of northern Savoie,
where you will find a mixture of bustling
resorts and picture postcard villages. Prices
here are exceptional value!
Move across to the Auvergne and
you will discover a wonderful area full of
lakes, rivers, dormant volcanoes and lush
countryside. This is rural France at its most
dramatic and property prices are lower
than the Alps, so if you are looking for value
for money, a place to hike, cycle or ski, this
is it.
Leggett has over 1,000 properties to
choose from in the region, with a style and
location to suit every budget. What's more,
our team of 50 local experts really do have
an unrivalled knowledge that our clients
find invaluable - why not come and see for
yourself?
Heather Byrne
runs the team
in the Auvergne
RhÔne Alpes.
? 93
LEGGETT IMMOBILIER - LOCAL KNOWLEDGE YOU CAN TRUST