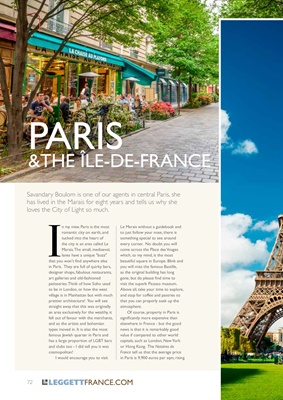 72
PARIS & ILE DE FRANCE LEGGETT MAGAZINE
LEGGETTFRANCE.COM
I
n my view, Paris is the most
romantic city on earth, and
tucked into the heart of
the city is an area called Le
Marais. The small, mediaeval,
lanes have a unique "buzz"
that you won't find anywhere else
in Paris. They are full of quirky bars,
designer shops, fabulous restaurants,
art galleries and old-fashioned
patisseries. Think of how Soho used
to be in London, or how the west
village is in Manhattan but with much
prettier architecture! You will see
straight away that this was originally
an area exclusively for the wealthy, it
fell out of favour with the merchants,
and so the artists and bohemian
types moved in. It is also the most
famous Jewish quarter in Paris and
has a large proportion of LGBT bars
and clubs too - I did tell you it was
cosmopolitan!
I would encourage you to visit
Savandary Boulom is one of our agents in central Paris, she
has lived in the Marais for eight years and tells us why she
loves the City of Light so much.
Le Marais without a guidebook and
to just follow your nose, there is
something special to see around
every corner. No doubt you will
come across the Place des Vosges
which, to my mind, is the most
beautiful square in Europe. Blink and
you will miss the famous Bastille,
as the original building has long
gone, but do please find time to
visit the superb Picasso museum.
Above all, take your time to explore,
and stop for coffee and pastries so
that you can properly soak up the
atmosphere.
Of course, property in Paris is
significantly more expensive than
elsewhere in France - but the good
news is that it is remarkably good
value if compared to other world
capitals, such as London, New York
or Hong Kong. The Notaires de
France tell us that the average price
in Paris is 9,900 euros per sqm, rising
PARIS &THE ÎLE-DE-FRANCE
Alexandre Rotenberg