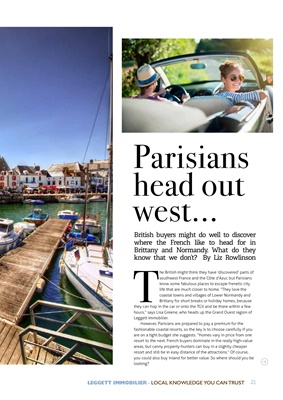 5.
4.Parisians
head out
west...
T
he British might think they have 'discovered' parts of
southwest France and the CÔte d'Azur, but Parisians
know some fabulous places to escape frenetic city
life that are much closer to home. "They love the
coastal towns and villages of Lower Normandy and
Brittany for short breaks or holiday homes, because
they can hop in the car or onto the TGV and be there within a few
hours," says Lisa Greene, who heads up the Grand Ouest region of
Leggett Immobilier.
However, Parisians are prepared to pay a premium for the
fashionable coastal resorts, so the key is to choose carefully if you
are on a tight budget she suggests. "Homes vary in price from one
resort to the next. French buyers dominate in the really high-value
areas, but canny property-hunters can buy in a slightly cheaper
resort and still be in easy distance of the attractions." Of course,
you could also buy inland for better value. So where should you be
looking?
British buyers might do well to discover
where the French like to head for in
Brittany and Normandy. What do they
know that we don't? By Liz Rowlinson
21
LEGGETT IMMOBILIER - LOCAL KNOWLEDGE YOU CAN TRUST