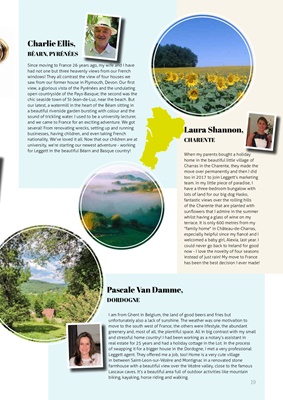 Since moving to France 26 years ago, my wife and I have
had not one but three heavenly views from our French
windows! They all contrast the view of four houses we
saw from our former house in Plymouth, Devon. Our first
view, a glorious vista of the Pyrénées and the undulating
open countryside of the Pays-Basque; the second was the
chic seaside town of St-Jean-de-Luz, near the beach. But
our latest, a watermill in the heart of the Béarn sitting in
a beautiful riverside garden bursting with colour and the
sound of trickling water.  I used to be a university lecturer,
and we came to France for an exciting adventure. We got
several! From renovating wrecks, setting up and running
businesses, having children, and even taking French
nationality. We've loved it all. Now that our children are at
university, we're starting our newest adventure - working
for Leggett in the beautiful Béarn and Basque country!
Laura Shannon,
CHARENTE
When my parents bought a holiday
home in the beautiful little village of
Charras in the Charente, they made the
move over permanently and then I did
too in 2017 to join Leggett's marketing
team. In my little piece of paradise, I
have a three-bedroom bungalow with
lots of land for our big dog Hasko,
fantastic views over the rolling hills
of the Charente that are planted with
sunflowers that I admire in the summer
whilst having a glass of wine on my
terrace. It is only 600 metres from my
"family home" in Château-de-Charras,
especially helpful since my fiancé and I
welcomed a baby girl, Alexia, last year. I
could never go back to Ireland for good
now - I love the novelty of four seasons
instead of just rain! My move to France
has been the best decision I ever made!
Pascale Van Damme,
DORDOGNE
I am from Ghent in Belgium, the land of good beers and fries but
unfortunately also a lack of sunshine. The weather was one motivation to
move to the south west of France, the others were lifestyle, the abundant
greenery and, most of all, the plentiful space. All in big contrast with my small
and stressful home country! I had been working as a notary's assistant in
real estate for 25 years and had a holiday cottage in the Lot. In the process
of swapping it for a bigger house in the Dordogne, I met a very professional
Leggett agent. They offered me a job, too! Home is a very cute village
in between Saint-Leon-sur-Vézère and Montignac in a renovated stone
farmhouse with a beautiful view over the Vézère valley, close to the famous
Lascaux caves. It's a beautiful area full of outdoor activities like mountain
biking, kayaking, horse riding and walking.
Charlie Ellis,
BÉARN, PYRÉNÉES
19