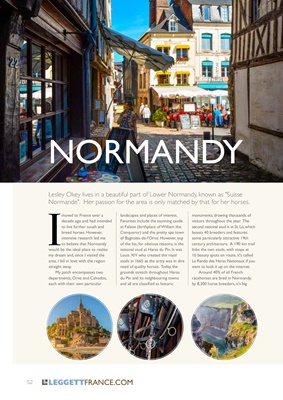 52 LEGGETTFRANCE.COM
NORMANDY
I
moved to France over a
decade ago and had intended
to live further south and
breed horses. However,
intensive research led me
to believe that Normandy
would be the ideal place to realise
my dream and, once I visited the
area, I fell in love with the region
straight away.
My patch encompasses two
departments, Orne and Calvados,
each with their own particular
Lesley Okey lives in a beautiful part of Lower Normandy, known as "Suisse
Normande". Her passion for the area is only matched by that for her horses.
landscapes and places of interest.
Favorites include the stunning castle
at Falaise (birthplace of William the
Conqueror) and the pretty spa town
of Bagnoles-de-l'Orne. However, top
of the list, for obvious reasons, is the
national stud at Haras du Pin. It was
Louis XIV who created the royal
studs in 1665 as the army was in dire
need of quality horses. Today, the
grounds stretch throughout Haras
du Pin and its neighbouring towns
and all are classified as historic
monuments, drawing thousands of
visitors throughout the year. The
second national stud is at St. Lo, which
boasts 40 breeders and features
some particularly attractive 19th
century architecture. A 190 km trail
links the two studs, with stops at
10 beauty spots en route, it's called
La Rando des Haras Nationaux if you
want to look it up on the internet.
Around 40% of all French
racehorses are bred in Normandy,
by 8,300 horse breeders, it's big