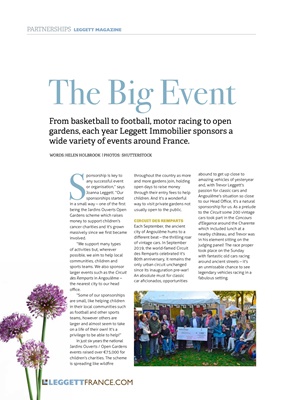 S
ponsorship is key to
any successful event
or organisation," says
Joanna Leggett. "Our
sponsorships started
in a small way - one of the first
being the Jardins Ouverts Open
Gardens scheme which raises
money to support children's
cancer charities and it's grown
massively since we first became
involved.
"We support many types
of activities but, wherever
possible, we aim to help local
communities, children and
sports teams. We also sponsor
larger events such as the Circuit
des Remparts in Angoulême -
the nearest city to our head
office.
"Some of our sponsorships
are small, like helping children
in their local communities such
as football and other sports
teams, however others are
larger and almost seem to take
on a life of their own! It's a
privilege to be able to help!"
In just six years the national
Jardins Ouverts / Open Gardens
events raised over €75,000 for
children's charities. The scheme
is spreading like wildfire
From basketball to football, motor racing to open
gardens, each year Leggett Immobilier sponsors a
wide variety of events around France.
The Big Event
throughout the country as more
and more gardens join, holding
open days to raise money
through their entry fees to help
children. And it's a wonderful
way to visit private gardens not
usually open to the public.
CIRCUIT DES REMPARTS
Each September, the ancient
city of Angoulême hums to a
different beat - the thrilling roar
of vintage cars. In September
2019, the world-famed Circuit
des Remparts celebrated it's
80th anniversary, it remains the
only urban circuit unchanged
since its inauguration pre-war!
An absolute must for classic
car aficionados, opportunities
abound to get up close to
amazing vehicles of yesteryear
and, with Trevor Leggett's
passion for classic cars and
Angoulême's situation so close
to our Head Office, it's a natural
sponsorship for us. As a prelude
to the Circuit some 200 vintage
cars took part in the Concours
d'Elegance around the Charente
which included lunch at a
nearby château, and Trevor was
in his element sitting on the
judging panel! The race proper
took place on the Sunday
with fantastic old cars racing
around ancient streets - it's
an unmissable chance to see
legendary vehicles racing in a
fabulous setting.
WORDS: HELEN HOLBROOK | PHOTOS: SHUTTERSTOCK
PARTNERSHIPS LEGGETT MAGAZINE
LEGGETTFRANCE.COM