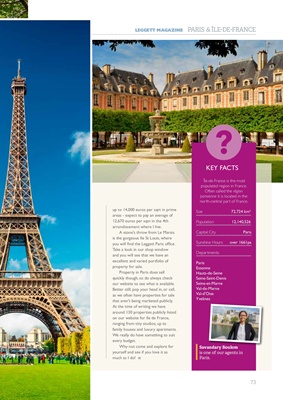 73
LEGGETT MAGAZINE PARIS & ÎLE-DE-FRANCE
KEY FACTS
Île-de-France is the most
populated region in France.
Often called the région
parisienne it is located in the
north-central part of France.
Size 72,724 km²
Population 12,140,526
Capital City Paris
Sunshine Hours over 1661pa
Departments:
Paris
Essonne
Hauts-de-Seine
Seine-Saint-Denis
Seine-et-Marne
Val-de-Marne
Val-d'Oise
Yvelines
Savandary Boulom
is one of our agents in
Paris.?
up to 14,000 euros per sqm in prime
areas - expect to pay an average of
12,670 euros per sqm in the 4th
arrondissement where I live.
A stone's throw from Le Marais
is the gorgeous Ile St Louis, where
you will find the Leggett Paris office.
Take a look in our shop window
and you will see that we have an
excellent and varied portfolio of
property for sale.
Property in Paris does sell
quickly though, so do always check
our website to see what is available.
Better still, pop your head in, or call,
as we often have properties for sale
that aren't being marketed publicly.
At the time of writing we have
around 130 properties publicly listed
on our website for Ile de France,
ranging from tiny studios, up to
family houses and luxury apartments.
We really do have something to suit
every budget.
Why not come and explore for
yourself and see if you love it as
much as I do!