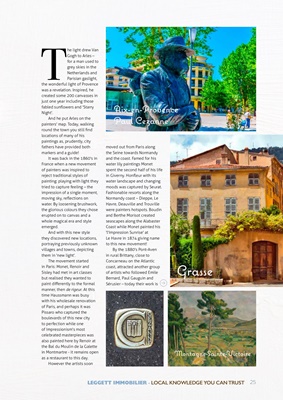 T
he light drew Van
Gogh to Arles -
for a man used to
grey skies in the
Netherlands and
Parisian gaslight,
the wonderful light of Provence
was a revelation. Inspired, he
created some 200 canvasses in
just one year including those
fabled sunflowers and 'Starry
Night'.
And he put Arles on the
painters' map. Today, walking
round the town you still find
locations of many of his
paintings as, prudently, city
fathers have provided both
markers and a guide!
It was back in the 1860's in
France when a new movement
of painters was inspired to
reject traditional styles of
painting: playing with light they
tried to capture feeling - the
impression of a single moment,
moving sky, reflections on
water. By loosening brushwork,
the glorious colours they chose
erupted on to canvas and a
whole magical era and style
emerged.
And with this new style
they discovered new locations,
portraying previously unknown
villages and towns, depicting
them in 'new light'.
The movement started
in Paris: Monet, Renoir and
Sisley had met in art classes
but realised they wanted to
paint differently to the formal
manner, then de rigeur. At this
time Haussmann was busy
with his wholesale renovation
of Paris, and perhaps it was
Pissaro who captured the
boulevards of this new city
to perfection while one
of Impressionism's most
celebrated masterpieces was
also painted here by Renoir at
the Bal du Moulin de la Galette
in Montmartre - it remains open
as a restaurant to this day.
However the artists soon
moved out from Paris along
the Seine towards Normandy
and the coast. Famed for his
water lily paintings Monet
spent the second half of his life
in Giverny. Honfleur with its
water landscape and changing
moods was captured by Seurat.
Fashionable resorts along the
Normandy coast - Dieppe, Le
Havre, Deauville and Trouville
were painters hotspots. Boudin
and Berthe Morisot created
seascapes along the Alabaster
Coast while Monet painted his
'l'Impression Sunrise' at
Le Havre in 1874 giving name
to this new movement!
By the 1880's Pont-Aven
in rural Brittany, close to
Concarneau on the Atlantic
coast, attracted another group
of artists who followed Emile
Bernard, Paul Gauguin and
Sérusier - today their work is
Aix-en-Provence
Paul Cezanne Montagne-Sainte-Victoire
Grasse
25
LEGGETT IMMOBILIER - LOCAL KNOWLEDGE YOU CAN TRUST