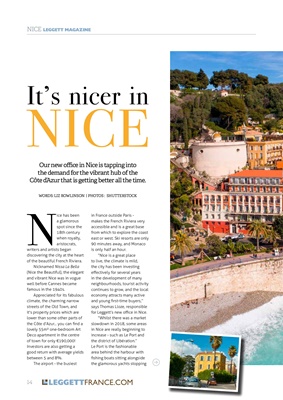 It's nicer in
NICEOur new office in Nice is tapping into
the demand for the vibrant hub of the
CÔte d'Azur that is getting better all the time.
WORDS: LIZ ROWLINSON | PHOTOS : SHUTTERSTOCK
14 LEGGETTFRANCE.COM
NICE LEGGETT MAGAZINE
N
ice has been
a glamorous
spot since the
18th century
when royalty,
aristocrats,
writers and artists began
discovering the city at the heart
of the beautiful French Riviera.
Nicknamed Nissa La Bella
(Nice the Beautiful), the elegant
and vibrant Nice was in vogue
well before Cannes became
famous in the 1940s.
Appreciated for its fabulous
climate, the charming narrow
streets of the Old Town, and
it's property prices which are
lower than some other parts of
the Côte d'Azur... you can find a
lovely 55m² one-bedroom Art
Deco apartment in the centre
of town for only €190,000!
Investors are also getting a
good return with average yields
between 5 and 8%.
The airport - the busiest
in France outside Paris -
makes the French Riviera very
accessible and is a great base
from which to explore the coast
east or west. Ski resorts are only
90 minutes away, and Monaco
is only half an hour.
"Nice is a great place
to live, the climate is mild,
the city has been investing
effectively for several years
in the development of many
neighbourhoods, tourist activity
continues to grow, and the local
economy attracts many active
and young first-time buyers,"
says Thomas Lloze, responsible
for Leggett's new office in Nice.
"Whilst there was a market
slowdown in 2018, some areas
in Nice are really beginning to
increase - such as Le Port and
the district of Libération."
Le Port is the fashionable
area behind the harbour with
fishing boats sitting alongside
the glamorous yachts stopping