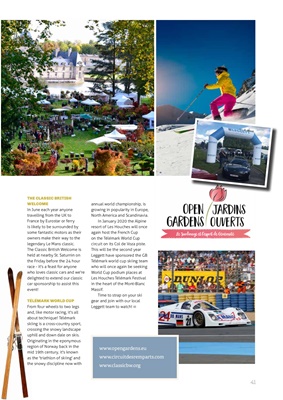 THE CLASSIC BRITISH
WELCOME
In June each year anyone
travelling from the UK to
France by Eurostar or ferry
is likely to be surrounded by
some fantastic motors as their
owners make their way to the
legendary Le Mans classic.
The Classic British Welcome is
held at nearby St. Saturnin on
the Friday before the 24 hour
race - it's a feast for anyone
who loves classic cars and we're
delighted to extend our classic
car sponsorship to assist this
event!
TÉLÉMARK WORLD CUP
From four wheels to two legs
and, like motor racing, it's all
about technique! Télémark
skiing is a cross-country sport,
crossing the snowy landscape
uphill and down dale on skis.
Originating in the eponymous
region of Norway back in the
mid 19th century, it's known
as the 'triathlon of skiing' and
the snowy discipline now with
annual world championship, is
growing in popularity in Europe,
North America and Scandinavia.
In January 2020 the Alpine
resort of Les Houches will once
again host the French Cup
on the Télémark World Cup
circuit on its Col de Voza piste.
This will be the second year
Leggett have sponsored the GB
Télémark world cup skiing team
who will once again be seeking
World Cup podium places at
Les Houches Télémark Festival
in the heart of the Mont-Blanc
Massif.
Time to strap on your ski
gear and join with our local
Leggett team to watch!
41