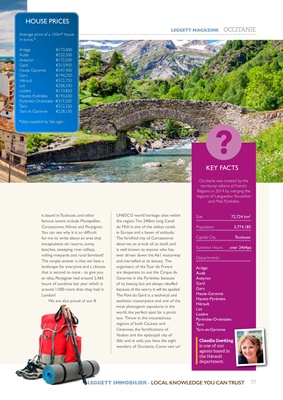 77
LEGGETT IMMOBILIER - LOCAL KNOWLEDGE YOU CAN TRUST
LEGGETT MAGAZINE OCCITANIE
is based in Toulouse, and other
famous towns include Montpellier,
Carcassonne, Nîmes and Perpignan.
You can see why it is so difficult
for me to write about an area that
encapsulates ski resorts, sunny
beaches, sweeping river valleys,
rolling vineyards and rural farmland!
The simple answer is that we have a
landscape for everyone and a climate
that is second to none - to give you
an idea, Perpignan had around 2,465
hours of sunshine last year which is
around 1,000 more than they had in
London!
We are also proud of our 8
KEY FACTS
Occitanie was created by the
territorial reform of French
Regions in 2014 by merging the
regions: of Languedoc-Roussillon
and Midi-Pyrénées
Size 72,724 km²
Population 5,774,185
Capital City Toulouse
Sunshine Hours over 2464pa
Departments:
Ariège
Aude
Aveyron
Gard
Gers
Haute-Garonne
Hautes-Pyrénées
Hérault
Lot
Lozère
Pyrénées-Orientales
Tarn
Tarn-et-Garonne
Claudia Goetting
is one of our
agents based in
the Hérault
department.
?
UNESCO world heritage sites within
the region. The 240km long Canal
du Midi is one of the oldest canals
in Europe and a haven of solitude.
The fortified city of Carcassonne
deserves an article all to itself, and
is well known to anyone who has
ever driven down the A61 motorway
and marvelled at its beauty. The
organisers of the Tour de France
are desperate to use the Cirque du
Gavarnie in the Pyrénées because
of its beauty, but are always rebuffed
because of the worry it will be spoiled.
The Pont du Gard is a technical and
aesthetic masterpiece and one of the
most photogenic aquaducts in the
world, the perfect spot for a picnic
too. Throw in the mountainous
regions of both Causses and
Cevennes, the fortifications of
Vauban and the episcopal city of
Albi and et voilà, you have the eight
wonders of Occitanie. Come visit us!
Average price of a 150m² house
in euros.*
Ariège €173,400
Aude €232,500
Aveyron €172,500
Gard €313,950
Haute Garonne €347,400
Gers €194,250
Hérault €372,750
Lot €208,350
Lozère €173,850
Hautes Pyrénées €193,650
Pyrénées Orientales €319,200
Tarn €212,250
Tarn et Garonne €228,150
*data supplied by SeLoger
HOUSE PRICES