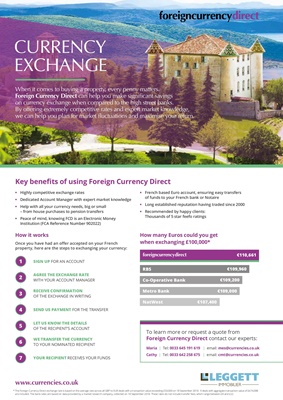 • Highly competitive exchange rates
• Dedicated Account Manager with expert market knowledge
• Help with all your currency needs, big or small
- from house purchases to pension transfers
• Peace of mind, knowing FCD is an Electronic Money
Institution (FCA Reference Number 902022)
Key benefits of using Foreign Currency Direct
• French based Euro account, ensuring easy transfers
of funds to your French bank or Notaire
• Long established reputation having traded since 2000
• Recommended by happy clients:
Thousands of 5 star feefo ratings
How many Euros could you get
when exchanging £100,000*
How it works
Once you have had an offer accepted on your French
property, here are the steps to exchanging your currency:
€110,661
€109,960
€109,200
€109,000
€107,400
RBS
Co-Operative Bank
Metro Bank
NatWest
* The Foreign Currency Direct exchange rate is based on the average rate across all GBP to EUR deals with a transaction value exceeding £50,000 on 18 September 2018. 9 deals with aggregate transaction value of £674,088
are included. The bank rates are based on data provided by a market research company, collected on 18 September 2018. These rates do not include transfer fees, which range between £8 and £22.
1 SIGN UP FOR AN ACCOUNT
2
AGREE THE EXCHANGE RATE
WITH YOUR ACCOUNT MANAGER
3
RECEIVE CONFIRMATION
OF THE EXCHANGE IN WRITING
4 SEND US PAYMENT FOR THE TRANSFER
5
LET US KNOW THE DETAILS
OF THE RECIPIENT'S ACCOUNT
6
WE TRANSFER THE CURRENCY
TO YOUR NOMINATED RECIPIENT
7 YOUR RECIPIENT RECEIVES YOUR FUNDS
To learn more or request a quote from
mes@currencies.co.uk
Direct contact our experts:
Maria | Tel:cmt@currencies.co.ukemail: mes@currencies.co.uk
Cathy | Tel: 0033 642 258 675 | email: cmt@currencies.co.uk
CURRENCY
EXCHANGE
When it comes to buying a property, every penny matters.
Foreign Currency Direct can help you make significant savings
on currency exchange when compared to the high street banks.
By offering extremely competitive rates and expert market knowledge,
we can help you plan for market fluctuations and maximise your return.