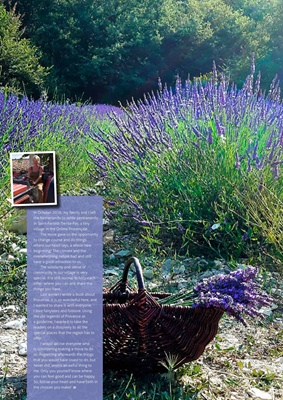 35
In October 2016, my family and I left
the Netherlands to settle permanently
in Saint-Ferréol-Trente-Pas, a tiny
village in the Drôme Provençale.
The move gave us the opportunity
to change course and do things
where our heart lays, a whole new
beginning! The climate and the
overwhelming nature had and still
have a great attraction to us.
The solidarity and sense of
community in our village is very
special. It is still normal to help each
other where you can and share the
things you have.
Last winter I wrote a book about
Provence, it is so wonderful here, and
I wanted to share it with everyone.
I love fairytales and folklore. Using
the old legends of Provence as
a guideline, I wanted to take the
readers on a discovery to all the
special places that the region has to
offer.
I would advise everyone who
is considering making a move to do
so. Regretting afterwards the things
that you would have loved to do, but
never did, seems an awful thing to
me. Only you yourself know where
you can feel good and can be happy.
So, follow your heart and have faith in
the choices you make!