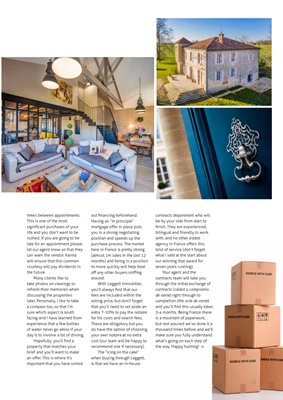 times between appointments.
This is one of the most
significant purchases of your
life and you don't want to be
rushed. If you are going to be
late for an appointment please
let our agent know so that they
can warn the vendor. Karma
will ensure that this common
courtesy will pay dividends in
the future.
Many clients like to
take photos on viewings to
refresh their memories when
discussing the properties
later. Personally, I like to take
a compass too, so that I'm
sure which aspect is south
facing and I have learned from
experience that a few bottles
of water never go amiss if your
day is to involve a lot of driving.
Hopefully, you'll find a
property that matches your
brief and you'll want to make
an offer. This is where it's
important that you have sorted
out financing beforehand.
Having an "in principle"
mortgage offer in place puts
you in a strong negotiating
position and speeds up the
purchase process. The market
here in France is pretty strong
(almost 1m sales in the last 12
months) and being in a position
to move quickly will help beat
off any other buyers sniffing
around.
With Leggett Immobilier,
you'll always find that our
fees are included within the
asking price, but don't forget
that you'll need to set aside an
extra 7-10% to pay the notaire
for his costs and search fees.
These are obligatory but you
do have the option of choosing
your own notaire at no extra
cost (our team will be happy to
recommend one if necessary).
The "icing on the cake"
when buying through Leggett,
is that we have an in-house
13
contracts department who will
be by your side from start to
finish. They are experienced,
bilingual and friendly to work
with, and no other estate
agency in France offers this
kind of service (don't forget
what I said at the start about
our winning that award for
seven years running).
Your agent and the
contracts team will take you
through the initial exchange of
contracts (called a compromis
de vente) right through to
completion (the acte de vente)
and you'll find this usually takes
3-4 months. Being France there
is a mountain of paperwork,
but rest assured we've done it a
thousand times before and we'll
make sure you fully understand
what's going on each step of
the way. Happy hunting!