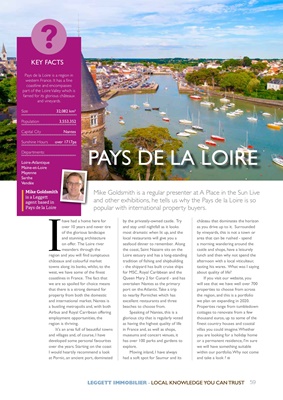 59
LEGGETT IMMOBILIER - LOCAL KNOWLEDGE YOU CAN TRUST
I
have had a home here for
over 10 years and never tire
of the glorious landscape
and stunning architecture
on offer. The Loire river
meanders through the
region and you will find sumptuous
châteaux and colourful market
towns along its banks, whilst, to the
west, we have some of the finest
coastlines in France. The fact that
we are so spoiled for choice means
that there is a strong demand for
property from both the domestic
and international market. Nantes is
a bustling metropolis and, with both
Airbus and Royal Carribean offering
employment opportunities, the
region is thriving.
It's an area full of beautiful towns
and villages and, of course, I have
developed some personal favourites
over the years. Starting on the coast
I would heartily recommend a look
at Pornic, an ancient port, dominated
Mike Goldsmith is a regular presenter at A Place in the Sun Live
and other exhibitions, he tells us why the Pays de la Loire is so
popular with international property buyers.
by the privately-owned castle. Try
and stay until nightfall as it looks
most dramatic when lit up, and the
local restaurants will give you a
seafood dinner to remember. Along
the coast, Saint Nazaire sits on the
Loire estuary and has a long-standing
tradition of fishing and shipbuilding
- the shipyard has built cruise ships
for MSC, Royal Caribbean and the
Queen Mary 2 for Cunard - and has
overtaken Nantes as the primary
port on the Atlantic. Take a trip
to nearby Pornichet which has
excellent restaurants and three
beaches to choose from.
Speaking of Nantes, this is a
glorious city that is regularly voted
as having the highest quality of life
in France and, as well as shops,
museums and concert venues, it
has over 100 parks and gardens to
explore.
Moving inland, I have always
had a soft spot for Saumur and its
PAYS DE LA LOIRE
KEY FACTS
Pays de la Loire is a region in
western France. It has a fine
coastline and encompasses
part of the Loire Valley which is
famed for its glorious châteaux
and vineyards.
Size 32,082 km²
Population 3,553,352
Capital City Nantes
Sunshine Hours over 1717pa
Departments:
Loire-Atlantique
Maine-et-Loire
Mayenne
Sarthe
Vendée
Mike Goldsmith
is a Leggett
agent based in
Pays de la Loire
?
château that dominates the horizon
as you drive up to it. Surrounded
by vineyards, this is not a town or
area that can be rushed - spend
a morning wandering around the
castle and shops, have a leisurely
lunch and then why not spend the
afternoon with a local viticulteur,
tasting his wares. What was I saying
about quality of life?
If you visit our website, you
will see that we have well over 700
properties to choose from across
the region, and this is a portfolio
we plan on expanding in 2020.
Properties range from tumbledown
cottages to renovate from a few
thousand euros, up to some of the
finest country houses and coastal
villas you could imagine. Whether
you are looking for a holiday home
or a permanent residence, I'm sure
we will have something suitable
within our portfolio. Why not come
and take a look ?