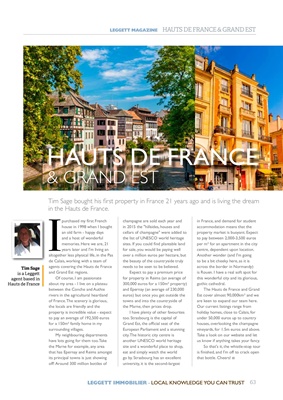 63
LEGGETT IMMOBILIER - LOCAL KNOWLEDGE YOU CAN TRUST
LEGGETT MAGAZINE HAUTS DE FRANCE & GRAND EST
I
purchased my first French
house in 1998 when I bought
an old farm - happy days
and a host of wonderful
memories. Here we are, 21
years later and I'm living an
altogether less physical life, in the Pas
de Calais, working with a team of
agents covering the Hauts de France
and Grand Est regions.
Of course, I am passionate
about my area - I live on a plateau
between the Conche and Authie
rivers in the agricultural heartland
of France. The scenery is glorious,
the locals are friendly and the
property is incredible value - expect
to pay an average of 192,500 euros
for a 150m² family home in my
surrounding villages.
My neighbouring departments
have lots going for them too. Take
the Marne for example, any area
that has Epernay and Reims amongst
its principal towns is just showing
off! Around 300 million bottles of
Tim Sage bought his first property in France 21 years ago and is living the dream
in the Hauts de France.
champagne are sold each year and
in 2015 the "hillsides, houses and
cellars of champagne" were added to
the list of UNESCO world heritage
sites. If you could find plantable land
for sale, you would be paying well
over a million euros per hectare, but
the beauty of the countryside truly
needs to be seen to be believed.
Expect to pay a premium price
for property in Reims (an average of
300,000 euros for a 150m² property)
and Epernay (an average of 230,000
euros) but once you get outside the
towns and into the countryside of
the Marne, then prices drop.
I have plenty of other favourites
too. Strasbourg is the capital of
Grand Est, the official seat of the
European Parliament and a stunning
city. The historic city centre is
another UNESCO world heritage
site and a wonderful place to shop,
eat and simply watch the world
go by. Strasbourg has an excellent
university, it is the second-largest
HAUTS DE FRANCE
& GRAND EST
Tim Sage
is a Leggett
agent based in
Hauts de France
in France, and demand for student
accommodation means that the
property market is buoyant. Expect
to pay between 2,000-3,500 euros
per m² for an apartment in the city
centre, dependent upon location.
Another wonder (and I'm going
to be a bit cheeky here, as it is
across the border in Normandy)
is Rouen. I have a real soft spot for
this wonderful city and its glorious,
gothic cathedral.
The Hauts de France and Grand
Est cover almost 90,000km² and we
are keen to expand our team here.
Our current listings range from
holiday homes, close to Calais, for
under 50,000 euros up to country
houses, overlooking the champagne
vineyards, for 1.5m euros and above.
Take a look on our website and let
us know if anything takes your fancy.
So that's it, the whistle-stop tour
is finished, and I'm off to crack open
that bottle. Cheers!