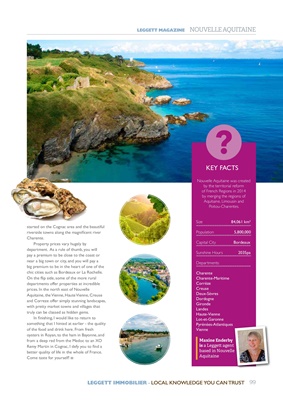 LEGGETT MAGAZINE NOUVELLE AQUITAINE
started on the Cognac area and the beautiful
riverside towns along the magnificent river
Charente.
Property prices vary hugely by
department. As a rule of thumb, you will
pay a premium to be close to the coast or
near a big town or city, and you will pay a
big premium to be in the heart of one of the
chic cities such as Bordeaux or La Rochelle.
On the flip side, some of the more rural
departments offer properties at incredible
prices. In the north east of Nouvelle
Aquitaine, the Vienne, Haute Vienne, Creuse
and Correze offer simply stunning landscapes,
with pretty market towns and villages that
truly can be classed as hidden gems.
In finishing, I would like to return to
something that I hinted at earlier - the quality
of the food and drink here. From fresh
oysters in Royan, to the ham in Bayonne, and
from a deep red from the Medoc to an XO
Remy Martin in Cognac, I defy you to find a
better quality of life in the whole of France.
Come taste for yourself!
KEY FACTS
Nouvelle Aquitaine was created
by the territorial reform
of French Regions in 2014
by merging the regions: of
Aquitaine, Limousin and
Poitou-Charentes.
Size 84,061 km²
Population 5,800,000
Capital City Bordeaux
Sunshine Hours 2035pa
Departments:
Charente
Charente-Maritime
Corrèze
Creuse
Deux-Sèvres
Dordogne
Gironde
Landes
Haute-Vienne
Lot-et-Garonne
Pyrénées-Atlantiques
Vienne
99
LEGGETT IMMOBILIER - LOCAL KNOWLEDGE YOU CAN TRUST
Maxine Enderby
is a Leggett agent
based in Nouvelle
Aquitaine
?