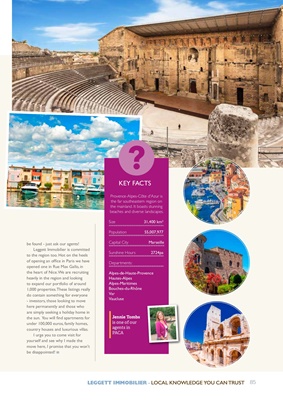 85
LEGGETT IMMOBILIER - LOCAL KNOWLEDGE YOU CAN TRUST
be found - just ask our agents!
Leggett Immobilier is committed
to the region too. Hot on the heels
of opening an office in Paris we have
opened one in Rue Max Gallo, in
the heart of Nice. We are recruiting
heavily in the region and looking
to expand our portfolio of around
1,000 properties. These listings really
do contain something for everyone
- investors, those looking to move
here permanently and those who
are simply seeking a holiday home in
the sun. You will find apartments for
under 100,000 euros, family homes,
country houses and luxurious villas.
I urge you to come visit for
yourself and see why I made the
move here, I promise that you won't
be disappointed!
KEY FACTS
Provence-Alpes-Côte d'Azur is
the far southeastern region on
the mainland. It boasts stunning
beaches and diverse landscapes.
Size 31,400 km²
Population 55,007,977
Capital City Marseille
Sunshine Hours 2724pa
Departments:
Alpes-de-Haute-Provence
Hautes-Alpes
Alpes-Maritimes
Bouches-du-Rhône
Var
Vaucluse
Jennie Tombs
is one of our
agents in
PACA?