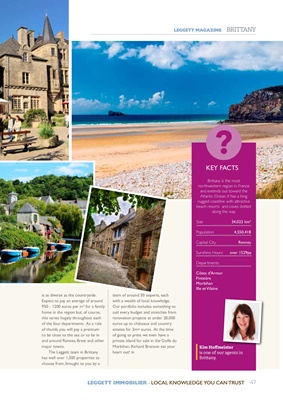 47
LEGGETT MAGAZINE BRITTANY
KEY FACTS
Brittany is the most
northwestern region in France
and extends out toward the
Atlantic Ocean. It has a long
rugged coastline with attractive
beach resorts and coves dotted
along the way.
Size 34,023 km²
Population 4,550,418
Capital City Rennes
Sunshine Hours over 1529pa
Departments:
Côtes d'Armor
Finistère
Morbihan
Ille et Vilaine
Kim Hoffmeister
is one of our agents in
Brittany.
?
is as diverse as the countryside.
Expect to pay an average of around
950 - 1200 euros per m² for a family
home in the region but, of course,
this varies hugely throughout each
of the four departments. As a rule
of thumb, you will pay a premium
to be close to the sea or to be in
and around Rennes, Brest and other
major towns.
The Leggett team in Brittany
has well over 1,300 properties to
choose from, brought to you by a
team of around 50 experts, each
with a wealth of local knowledge.
Our portfolio includes something to
suit every budget and stretches from
renovation projects at under 20,000
euros up to châteaux and country
estates for 3m+ euros. At the time
of going to press we even have a
private island for sale in the Golfe du
Morbihan, Richard Branson eat your
heart out!
LEGGETT IMMOBILIER - LOCAL KNOWLEDGE YOU CAN TRUST