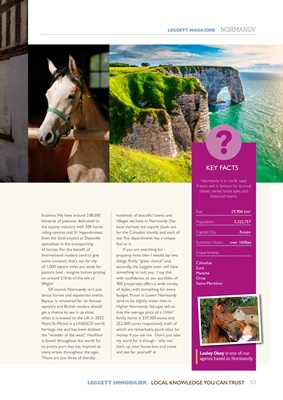 53
LEGGETT IMMOBILIER - LOCAL KNOWLEDGE YOU CAN TRUST
LEGGETT MAGAZINE NORMANDY
business. We have around 238,000
hectares of pastures dedicated to
the equine industry, with 300 horse
riding centres and 31 hippodromes.
Even the local airport at Deauville
specialises in the transporting
of horses. For the benefit of
international readers (and to give
some context) that's not far shy
of 1,000 square miles put aside for
pasture land - imagine horses grazing
on around 2/3rds of the Isle of
Wight!
Of course, Normandy isn't just
about horses and equestrian events.
Bayeux is renowned for its famous
tapestry and British readers should
get a chance to see it up close
when it is loaned to the UK in 2022.
Mont-St-Michel is a UNESCO world
heritage site and has been dubbed
the "wonder of the west". Honfleur
is famed throughout the world for
its pretty port that has inspired so
many artists throughout the ages.
Those are just three of literally
KEY FACTS
Normandy is in north west
France and is famous for its local
dishes, varied landscapes and
historical towns.
Size 29,906 km²
Population 3,322,757
Capital City Rouen
Sunshine Hours over 1600pa
Departments:
Calvados
Eure
Manche
Orne
Seine-Maritime
Lesley Okey is one of our
agents based in Normandy.
?
hundreds of beautiful towns and
villages we have in Normandy. Our
local markets are superb (look out
for the Calvados stands) and each of
our five departments has a unique
feel to it.
If you are searching for
property here then I would say two
things: firstly "great choice" and,
secondly, the Leggett team will have
something to suit you. I say this
with confidence, as our portfolio of
900 properties offers a wide variety
of styles, with something for every
budget. Prices in Lower Normandy
tend to be slightly lower than in
Higher Normandy. SeLoger tell us
that the average price of a 150m²
family home is 237,300 euros and
252,000 euros respectively, both of
which are remarkably good value for
money if you ask me. Don't just take
my word for it though - why not
hitch up your horse-box and come
and see for yourself!